Jewish World Review July 28, 2004 / 11 Menachem-Av, 5764

Michael Graham
Party like it's 1999
http://www.jewishworldreview.com | So, is America better off than it was four years ago?

Watching the Democratic National Convention, I sometimes wonder why we haven't all fled to Canada or England or France (OK, maybe not France), so desperate is the American condition.

Democrat after Democrat reports that, in the last four years, President Bush has ruined the once-thriving economy, destroyed a perfectly functioning foreign policy and spent his spare time ironing brown shirts for the next fascist uprising. What Americans long for, they insist, is a return to the policies of the 1990s, the Clinton era, which according to Sen. Hillary Clinton, was an era of "peace, prosperity and promise."

As a former political flak, I usually take this puffery in stride. Do I point out that the economy has turned around dramatically since Bush's election? Or that President Clinton inherited a growing economy in 1993, but handed President Bush a brand-spanking new recession in 2001? Or that the Bush economic plan had to dig us out of both a recession and the economic rubble left by September 11 — and it worked?

Nah. Why ruin the fun?

So let the Democrats talk about "prosperity and promise" all they want. But "peace?" That's going one step too far.

The 1990s — an era of "peace?" Well sure, if you mean "peace" in the sense that America wasn't shooting back.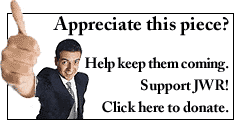 Unlike many of the Democratic conventioneers, and the Clintons in particular, I actually remember the 1990s. I remember 1993, when a truck bomb blew up the World Trade Center the first time, killing six and injuring 1,000.

I remember American soldiers dying in the attack on Khobar Towers in 1996, soldiers who had been invited there by the Saudis to protect them from some non-threatening, weaponless guy named Saddam Hussein.

I remember 1998 when two American embassies were blown to smithereens in Africa, a massive, coordinated attack that killed 258 people and injured 5,000.

I even remember that, while the president's pants problem was creating political turmoil, 17 sailors were dying on the U.S. S. Cole, the victim of yet another coordinated attack by the same, determined enemy that struck in 1993.

This is what Democrats call "peace?" They want to go back to this future?

President Clinton, speaking to the convention, claimed that while he was in office America was safer, taking "strong actions against terror."

"We tried it their way for 12 years," Clinton said of the Republican. "We tried it our way for eight years. Then we tried it their way for four more. But the only test that matters is whether people were better off when we finished than when we started. Our way works better." And what was Clinton's way? To negotiate with the Taliban while they harbored Osama bin Laden. To allow Al Qaeda to run terror training camps without sending in a single spy. Not even one. To three times call off lethal attacks against bin Laden and the Al Qaeda leadership out of concern that there might be civilian casualties in Afghanistan.

Well, there were civilian casualties all right. Unfortunately, they were in Washington and New York.

I'm not blaming President Clinton for September 11th, please don't jump to that conclusion. For eight years, he fought terrorism his way, and I honestly believe he made reasonable, rational decisions at every turn. Is terrorism a crime problem or a form on international warfare? He said "crime." Should we take unilateral action in Afghanistan or let concerns about international reaction and legal questions stay our hand? He said "check with the lawyers."

At every turn, Clinton's decisions made sense. And every time, he was just plain wrong.

That's what makes this Democratic '90s nostalgia so offensive. We tried it their way, and thousands of people in New York and Africa and Yemen and Washington died. We tried it their way, and the terrorists prospered. We tried it their way, and Pakistan, Libya, Iraq and Saudi Arabia were all actively supporting terror. We tried it their way, and our "friends" in Germany, France and the U.N. were making millions helping Saddam violate international sanctions.

We tried it their way for eight years, and eight months later, disaster struck.

We weren't winning the war against terror in the 1990s. We weren't even fighting it. We weren't safer, we were just stupider.

We can go back to ignoring the terrorists if we choose, but they aren't going away. That's a lesson we should have learned ten years ago. What a shame if the Democrats force us to re-learn it in the future.
Every weekday JewishWorldReview.com publishes what many in Washington and in the media consider "must reading." Sign up for the daily JWR update. It's free. Just click here.


JWR contributor Michael Graham is a talk show host and author of the highly acclaimed "Redneck Nation: How the South Really Won the War." To comment, please click here.

© 2004, Michael Graham