Jewish World Review July 16, 2004 / 27 Tamuz 5764

Dan Abrams
Time to end the color-coded terror alert system
http://www.NewsAndOpinion.com | Not only does the public have no sense of what to do with the information, but now we learn law enforcement officials have found it confusing and vague as well. A report from the General Accounting Office, the investigative arm of Congress, found there was widespread concern among federal, state and local officials about the quality and timing of the information they received in connection with the color-coded system.

Now it seemed pretty straightforward. You know green means low threat. Blue means guarded. Yellow, elevated. Orange, high and red, severe. We have been at yellow for about six months. Code orange has been declared five times for a total of about three months since the system went into effect 28 months ago. It was a legitimate effort to provide the public with more information. Rather than simply warning law enforcement and leaving the worst to the public imagination, the administration attempted to provide a guide to the public as well. But it's time to accept the fact that it's failed.

First of all, I can't imagine we'll ever be at blue or green in the foreseeable future, so there are really three levels and every time it's raised people either ignore it or worry with little sense of what they can do about it. Then there are questions about why it is or isn't raised. Last week Secretary Ridge warned that al Qaeda may be planning an attack to disrupt the national elections and yet the threat level was not raised from yellow to orange because they didn't have enough specific information.

It just isn't helping. It's time to adopt a similar system to Israel's. For example, when they have specific information they inform the local officials and population at risk. That is useful. Putting the entire nation on alert every time there's a threat in Israel would eventually lead people there to ignore it as well. In England when there were constant IRA bombings they would only issue warnings to local officials when they had specific information.

It's time to raise the level of the information that we're getting.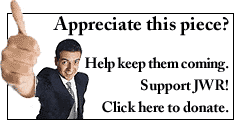 Every weekday JewishWorldReview.com publishes what many in Washington and in the media consider "must reading." Sign up for the daily JWR update. It's free. Just click here.


JWR contributor Dan Abrams anchors "The Abrams Report," Monday through Friday from 9-10 p.m. ET on MSNBC TV. He also covers legal stories for "NBC Nightly News with Tom Brokaw," "Today" and "Dateline NBC." To visit his website, click here. Comment by clicking here.

© 2004, MSNBC