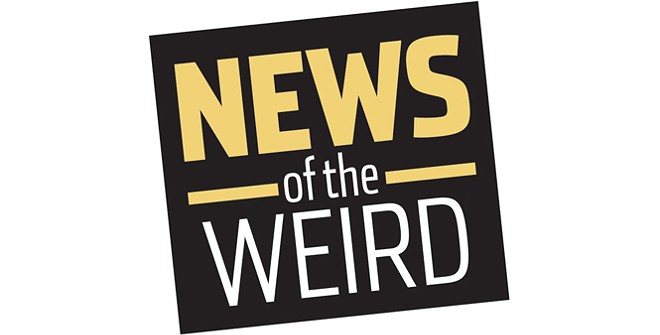 • Police responding to a reported shooting in Poughkeepsie, New York, early on May 17, arrived to find a very drunk 35-year-old man from the Bronx who claimed he'd been shot in the buttocks, which caused him to fall and hit his head.
The Hudson Valley Post reported the unnamed victim was taken to a hospital, where he was treated for his head injury, but doctors could find no evidence he'd been shot. There was no bullet hole in his buttocks, X-rays showed no bullet lodged inside his buttocks, and his pants had no holes in them, police said.
Witnesses nearby were also intoxicated and unable to provide any clarification.
When officers pressed the victim about his story, he became uncooperative and said, "I didn't pull a gun." [Hudson Valley Post, 5/19/2020]
• In Japan, people are enlisting the help of a long-forgotten mythical creature believed to ward off plagues in their battle against the coronavirus.
Amabie, a mermaidlike being, first appeared in Japanese folklore in 1846, when she was reported to have appeared to a government official and predicted a rich harvest and a pandemic.
She told the man the pandemic could be thwarted by drawing her likeness and sharing it with as many people as possible, BBC reported on April 23.
Now, images of the spirit are appearing over five continents, and in Japan, face masks and hand sanitizer with her image are popular.
One long-haul driver painted her on the side of his truck, saying, "I travel all over the country with my (goods) and Amabie to pray for the disease to go away."
Even the country's Ministry of Health, Labor and Welfare has joined in, tweeting an image of Amabie and encouraging people to "prevent the spread of the virus." [BBC, 4/23/2020]