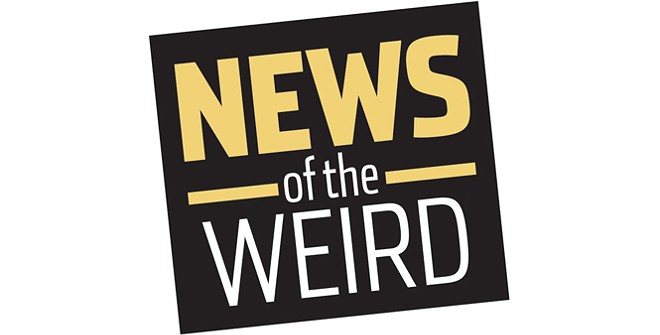 • In Clocolan, Free State Province, South Africa, where the lockdown includes a ban on buying or selling alcoholic beverages, thieves broke into the Rest in Peace funeral parlor and made off with four gallons of exhumation liquid, the Daily Mail reported.
The fluid, used to preserve body parts that have been exhumed, is 97% alcohol, police spokesperson Brigadier Motansi Makhele said, and the burglars had to break through roller blinds and into a locked steel cabinet to get to the liquid.
A forensic officer predicted: "If the thieves drink that liquid without watering it right down, then they will drop dead themselves!" [Daily Mail, 5/12/2020]
• A Mother's Day bouquet became a weapon during an altercation in Pinellas County, Florida, early on May 11. Sandra Kay Webb, 32, allegedly became angry with her husband because he bought flowers for her children to give her for Mother's Day.
The Smoking Gun reported that Webb threw the bouquet at her husband and hit him with it, then spit on him.
Webb was charged with domestic battery; she admitted throwing the flowers, but denied the spitting. [Smoking Gun, 5/12/2020]