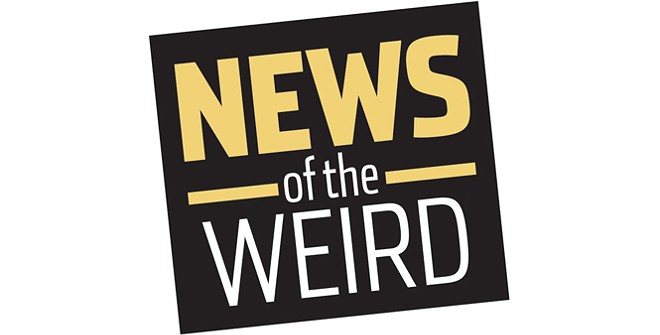 •
Manuel Muniz, 35, of Amsterdam, New York, didn't fool officers of the Montgomery County Sheriff's Department with his attempt to avoid the lines at the DMV.
Muniz was charged on May 20 with driving an unregistered vehicle after officers quickly identified Muniz's handwritten inspection sticker as a fake, made out of red construction paper and including a handmade bar code and January 2020 expiration date, WRGB reported.
"We appreciate people who take some initiative," the department posted on its Facebook page, "however this will not work as your vehicle inspection sticker, NICE TRY!" [WRGB, 5/22/2019]

• Jim and Jen (who asked that their last names be withheld) of Ontario, Canada, decided in 2011 they would be done having children after their twins were born that year.
Jen's doctor was supposed to perform a tubal ligation after delivering the babies, but 10 months later, she found herself pregnant again.
"I was floored," she told CTV News. "I couldn't imagine having a newborn again."
But in February 2013, their fourth child was born, and later that year, Jen and Jim sued their hospital and doctors for $800,000 for wrongful pregnancy. The case is expected to go to trial in spring 2020.
It's "not that we don't love her. ... She is everything and more, but it still doesn't mitigate the fact that there are pragmatic costs to raising a child," Jen said.
The hospital investigated and uncovered a chain of miscommunication regarding the tubal ligation -- compounded by not letting Jen know the procedure had not been done.
"If a man got a woman pregnant, he would have to pay child support, right?" said Jim. Lawyers for the doctors deny that Jen and Jim have suffered any damages. [CTV News, 5/27/2019]