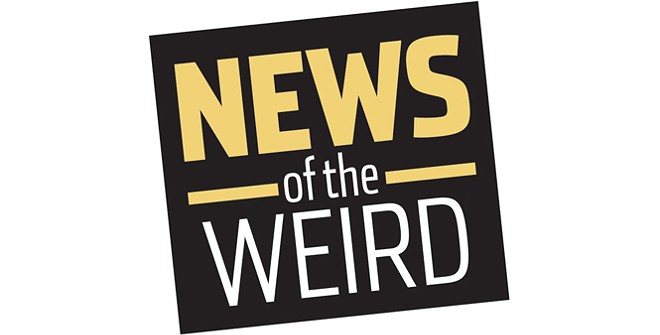 •
Cinema's Freddy Krueger has nothing on a winged resident of the Cascavel city zoo in Brazil.
The Amazonian parrot started his life at the zoo about four years ago, after being shot in the upper beak during a raid at a drug den, which disfigured his face and earned him the name Freddy Krueger, reported The Guardian.
In April, Freddy survived being bitten on the leg by a (nonvenomous) snake, which resulted in profuse bleeding.
Just days later, armed thieves broke into the zoo and stole Freddy, along with another parrot and a cylinder of gas.
But true to Freddy form, the parrot made his way back to the zoo, where veterinarian Ilair Dettoni speculated that Freddy's deformities may have made him less desirable to the thieves.
"I don't know if Freddy is really unlucky or really lucky," he said.
The other parrot and the gas cylinder have not been located. [The Guardian, 4/29/2019]

• Jennifer G. Hernandez, 58, is nothing if not persistent.
On April 22, Hernandez walked through the vehicle gate at CIA headquarters in Langley, Virginia, where she was stopped by a police officer. She explained that she had an interview in the complex, but the officer discovered she had no official business there and told her to leave.
On May 1, Military Times reported, Hernandez returned, this time in a Lyft vehicle, again asking to see her recruiter. She was issued a written warning and directed to leave.
On May 2, she was back (in an Uber this time), telling officers she returned because the recruiter's "phone was off."
On that day, officers inadvertently kept her North Carolina ID card, so on May 3, she came back to pick it up, and also asked if she could speak to "Agent Penis."
Promising to leave by bus, Hernandez ultimately refused, telling an officer, "Do you really think I'm going to leave?"
And that's when they'd had enough. Hernandez was arrested and charged with trespassing. [Military Times, 5/8/2019]