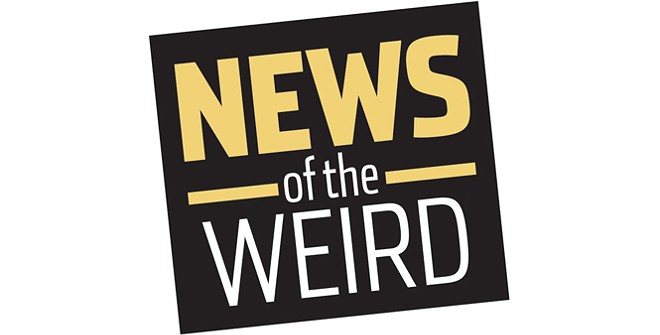 •
New Zealand's House Speaker, Trevor Mallard, ejected National Leader Simon Bridges from the chamber on May 7, claiming that Bridges' conduct was inappropriate during Question Time.
"The member earlier made a barnyard noise of the sort that would not be accepted in a junior classroom," Mallard said. But Bridges objected, saying, "I made no such noise and it is entirely unfair for you as a speaker to say that sort of unprofessional comment."
The New Zealand Herald reported that Bridges later said Mallard's comments made him feel like a "naughty boy"; later inspection of video from the session revealed that Bridges had made a loud sound of disapproval after an answer given by Prime Minister Jacinda Ardern. [New Zealand Herald, 5/7/2019]

• A police officer in Haines City, Florida, was inside a local business on May 4 when he heard "a loud noise" outside. In the parking lot, he found Gary Wayne Anderson, 68, had just crashed his riding lawnmower (with trailer carrying a red cooler) into the officer's cruiser, reported the Miami Herald.
"F--- it, I'm drunk," Anderson told officers, according to an arrest affidavit. "Take me to jail."
He was so intoxicated, police said, that he failed a field sobriety test and "almost fell to the ground multiple times."
At the police station, Anderson accused police of poisoning him and requested that he be taken to a hospital, where test results found his blood-alcohol content to be three times Florida's legal limit.
Anderson has two prior DUI convictions and has not had a valid driver's license since 1978.
"It's never a good idea to get behind the wheel drunk," noted police Chief Jim Elensky, "even if that wheel is to a Craftsman, Massey Ferguson or John Deere." [Miami Herald, 5/6/2019]