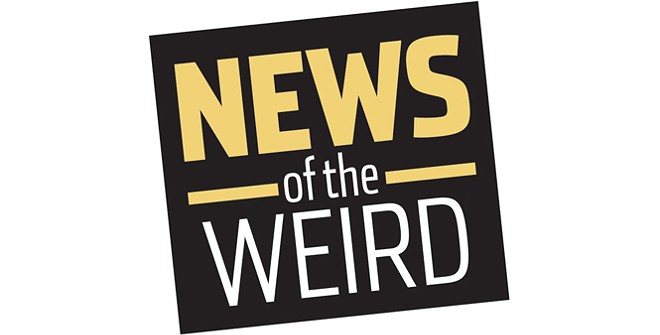 •
Police in Tempe, Arizona, said Vanessa Santillan, 40, and her boyfriend were arguing as she was driving on April 21.
When she stopped, he exited the car and crossed the street to a sidewalk.
Santillan then honked the horn, and her boyfriend returned a rude gesture, according to KTVK/KPHO.
That's when police say Santillan drove onto the sidewalk and hit the man, causing injuries serious enough to require a trip to the hospital and stitches.
Santillan drove away, but later spoke to police saying she wasn't aware it was "that bad" when she left the scene, further elaborating that she had "blacked out" and didn't remember hitting the boyfriend -- even though her car had visible damage.
She was booked on one count of aggravated assault and one count of failing to remain at the scene of a collision with injuries. [AZFamily.com, 5/1/2019]
• News of the Weird reported in May 2018 about Thomas Tramaglini, the superintendent of Kenilworth Public Schools in New Jersey, who pleaded guilty to defecating on the Holmdel High School track and football field "on a daily basis."
On April 30, Fox News reported, Tramaglini filed a lawsuit against the Holmdel Police Department for releasing his mug shot, claiming doing so tarnished his reputation and "altered his life forever."
Tramaglini's actions earned him the nickname "pooperintendent," and he claims to be "underemployed" and "fighting for any semblance of normalcy he can create for himself and his family."
However, he also negotiated a "separation agreement" of more than $100,000 with the district in August 2018. [Fox News, 5/1/2019]