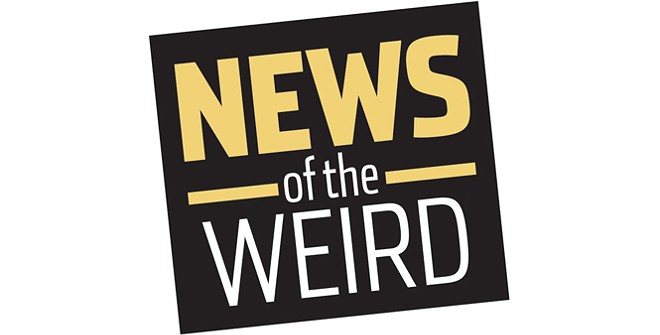 •
Idahoans embraced the Big Idaho Potato, a 28-foot-long steel-and-plaster potato constructed in 2012 to mark the Idaho Potato Commission's 75th anniversary. It's been traveling the country ever since, promoting Idaho's biggest crop, and the plan was for it to be retired this year, when Big Idaho Potato 2.0 arrives.
But Kristie Wolfe had better idea.
The tiny house builder has converted the sculpture into a single-room hotel (aptly called the Big Idaho Potato Hotel), reported USA Today.
It features a queen bed, two chairs and a bathroom with a whirlpool and skylight for stargazing; Wolfe lists it on Airbnb for $200 per night.
"It's a way of inviting people to experience Idaho in a unique way," remarked Frank Muir, CEO of the Idaho Potato Commission. [USA Today, 4/24/2019]
• A "vampire facial" is a procedure during which blood is drawn with a needle and then "spun" to separate the plasma, which is then injected into the face.
For customers of a spa in Albuquerque, New Mexico, though, the most lasting effects may come after a blood test.
The state's Department of Health is urging customers of VIP Spa, which closed in September 2018, to undergo HIV testing after two people were infected following treatment there.
Dr. Dean Bair of the Bair Medical Spa said people should always make sure they're going to a licensed facility for such procedures.
"This is just the worst example of what can go wrong," he told KOAT.
The spa closed after inspectors found the spa's practices could potentially spread blood-borne infections, including hepatitis B and C as well as HIV. [KOAT, 4/30/2019]
Columnists
Toons
Lifestyles
© 2021 Distributed by Universal Uclick