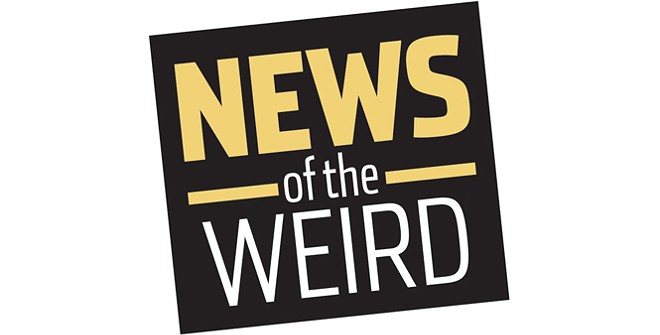 •
Police officers in Indialantic, Florida, responded to at least seven calls about a man disturbing the peace on April 7.
Patrons of Starbucks and Sassy Granny's Smoothies, among others, were startled when 61-year-old Thomas Devaney Lane started yelling, calling himself "the saint" and threatening to unleash his army of turtles on the community.
According to WKMG, Lane went along with an officer to the police station, where he screamed at the dispatcher and pounded on the walls, but then left the building. He was located later at a 7-Eleven, verbally assaulting customers.
As officers stood by, Lane called 911 and told the dispatcher, "I need to leave now or you will all be sorry you (expletive) with the saint."
Lane was charged with disturbing the peace, resisting arrest without violence and misusing 911. [WKMG, 4/12/2019]
• Lukas Bates, 30, of southeastern England, dreamed big while running the London Marathon on April 28, according to Fox News.
In addition to finishing, Bates hoped to secure a Guinness world record as the fastest runner dressed as an iconic building. His costume, the tower known as Big Ben in London, rose several feet above his head -- and that, it turns out, is what tripped him up.
As Bates approached the finish line, his costume got caught on the scoreboard structure overhead.
Finally a sympathetic race steward helped Bates free himself and make it over the finish line in three hours, 54 minutes and 21 seconds -- missing by only 20 seconds the record held by Richard Mietz, who ran last year's Berlin Marathon dressed as Germany's Holstentor gate. [Fox News, 4/28/2019]