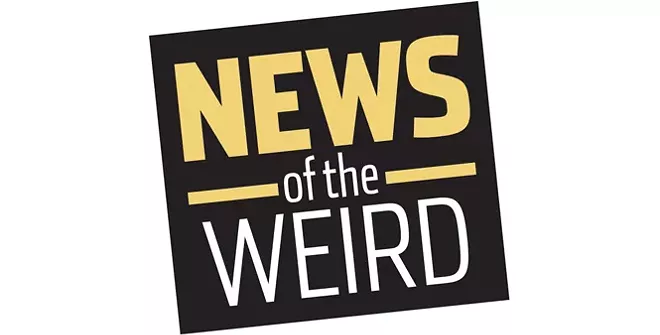 • In Dorking, England, Chris Hepworth and his partner, Tanisha Prince, both of London, dove across the finish line in one minute and 37 seconds, setting a course record and capturing the coveted U.K. Wife Carrying championship.
Any adult couple can compete in the contest -- married or not and regardless of gender -- which consists of one team member carrying the other, most using the "Estonian carry," with the "wife" upside-down, her legs over her partner's shoulders and gripping him around the waist from behind.
About 40 pairs competed over the quarter-mile course strewn with hay bales and mud, Reuters reported.
Hepworth and Prince plan to move on to the world finals in Finland. "I think a Finnish guy wins it every year," Hepworth noted, "so it'll be good to go there and take them down." [Reuters, 4/9/2018]
• In Ohio in 2004, 6-year-old Alex Malarkey spent two months in a coma after a car accident, awaking as a quadriplegic and telling his family he had visited heaven, seeing angels and meeting Jesus.
Alex and his dad, Kevin Malarkey, co-wrote a best-selling book in 2010, "The Boy Who Came Back From Heaven," but in 2015, Alex admitted he had made up the story to get attention.
"I did not die. I did not go to heaven," Alex told The Guardian.
In a recent effort to set the record straight, Alex filed a complaint April 9 in DuPage County, Illinois, against the book's publisher, Tyndale House, alleging that "any reasonable person would have realized that it was highly unlikely that the content of the book was true."
The Washington Post reported that while Kevin Malarkey is not a party to the suit -- which cites several Illinois statutes regarding the right to privacy, defamation, and financial exploitation of a person with a disability, among others -- it does allege that Alex's dad concocted and sold the story to Tyndale.
The younger Malarkey did not receive any royalties from the sales of the book. [The Washington Post, 4/13/2018]