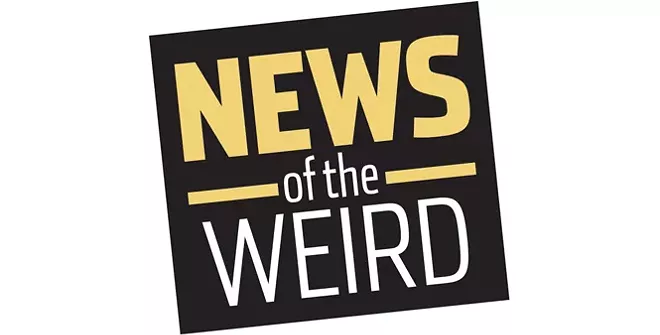 • On March 6, Royal Canadian Mounted Police participating in an awareness campaign set up several large electronic signs in North Vancouver, British Columbia, that warned drivers: "POLICE AHEAD -- STAY OFF YOUR PHONE."
Despite that, within just two hours, officers ticketed 89 drivers, 74 of them for distracted driving, which results in a $368 fine, plus a $175 penalty payment on a first offense.
"It is evident there is still more education and enforcement needed to make our roads safer," remarked Cpl. Richard De Jong to CTV News. [CTV News, 3/7/2018]
• A 23-year-old Salina, Kansas, woman arrived at her home around 9:30 p.m. on March 29 to find that the door had been locked and chained from the inside. She called police, who searched the home and found no one inside.
But about two hours later, her ex-boyfriend's legs punched through the ceiling in her living room, the Salina Journal reported. Tyler J. Bergkamp, 25, of Salina had been hiding in the attic. Police arrested him and took him to Salina Regional Health Center to recover from his fall.
Five days later, he left the hospital and broke into another woman's house, where he left his hospital gown, exchanging it for one of her T-shirts and a pair of sneakers.
Bergkamp was rearrested a short time later and faces a number of charges. [Salina Journal, 4/4/2018]