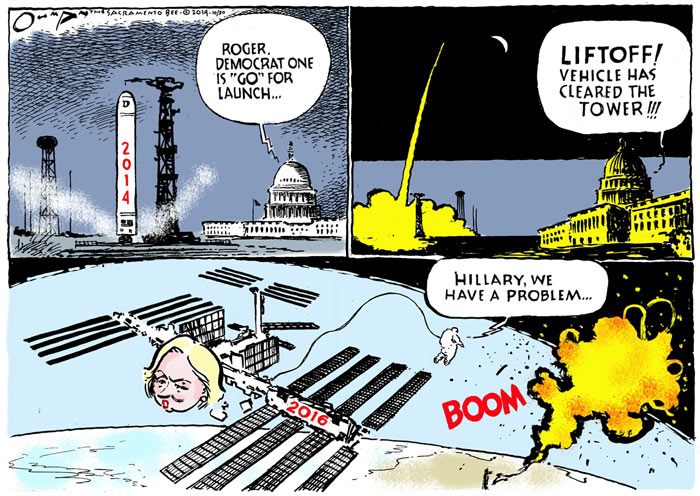 The Democratic presidential candidates are a sad lot. Hillary Clinton is clumsily positioning herself inside the left wing of her party. She won't take questions. Senator Bernie Sanders of Vermont is 73, looks 10 years older, and says a 90 percent income-tax rate would be fine with him. Lincoln Chafee of Rhode Island didn't run for reelection as governor in 2014 because his approval rating was so low. Jim Webb, the former senator from Virginia, is a better novelist than politician. As a campaigner, he's invisible. Martin O'Malley, ex-governor of Maryland, is chiefly famous for his enthusiasm for taxing anything and everything.
Things may pick up. Clinton's funk will lift if the media start touting her future as the first woman president. This will happen eventually, the sooner the better from her point of view. But for now, things are grim. And it's party-wide. The Democratic presidential candidates, as a group, are a metaphor for the entire Democratic party.
They're old and tired and unimaginative. In the past, Democrats won the White House with bright, energetic, young candidates. In 1960, John F. Kennedy was 43. Bill Clinton was 46 in 1992. Franklin Roosevelt was 50 when he won the presidency in 1932. Today the youngest of the Democratic Five is O'Malley. He's 52.
The Republican presidential race, in sharp contrast, features a whole new generation of candidates in their 40s: Marco Rubio (44), Bobby Jindal (43), Ted Cruz (44), and Scott Walker (47). Rand Paul and Chris Christie are slightly older at 52.
In Congress, Republicans are simply younger. The average age of House members is 54 for Republicans, 59 for Democrats. In the Senate, it's 60 for Republicans, 62 for Democrats
For good reason, voters have a preference for electing governors to the White House. They've done things and have records. Senators give speeches and vote on legislation. Among Republicans, Jindal, Walker, Christie, Jeb Bush, Rick Perry, and John Kasich have impressive records as governors. Democrats have Chafee, a flop as governor, and O'Malley, the tax man.
The simple truth is Democrats have a weak bench at the presidential level, Republicans a strong one. This is also true at the state level, where Republicans dominate. Democrats hold 18 of 50 governorships and a mere 30 of 98 legislative chambers. Republicans are blessed with the most legislative seats they've controlled since the 1920s. Democrats are barely hanging on.
Democrats have legitimate hopes in 2016 of winning the Senate, now held by Republicans, 54-46. But they are having trouble coming up with fresh candidates—the bench problem again.
In Wisconsin, they're stuck with Russ Feingold to run against the Republican who beat him six years ago, Ron Johnson. In Ohio, they're expected to tap ex-governor Ted Strickland against GOP senator Rob Portman. Strickland was ousted as governor in 2010 by John Kasich. In North Carolina, national Democrats want Kay Hagan to challenge two-term Republican senator Richard Burr. She was defeated in 2014 by Republican Thom Tillis after a single Senate term.
In Indiana, Democrat Baron Hill, who lost his House seat in 2010, is the leading Democrat to run for an open Senate seat. In Pennsylvania, Joe Sestak has a good shot at gaining the Senate nomination against Republican Pat Toomey. He lost to Toomey six years ago.
"All told, more than half of the Democrats' Senate challengers in 2010 are comeback candidates," the National Journal's Josh Kraushaar wrote. "On the one hand, most of these are the best choices Democrats have. .??.??. But look more closely and the reliance on former failures is a direct result of the party having no one else to turn to."
That's the Hillary model. She lost to Barack Obama for the 2008 Democratic presidential nomination. Now Clinton is the prohibitive frontrunner for the nomination in 2016. Why? Because she's the only Democrat in the race with strong name ID, a national following, and a powerful desire to be president. The GOP contest is filled with the cream of the Republican crop.
The lack of a candidate bench has made Democrats reliant on Clinton. She's their only hope for holding the presidency post-Obama. As a result, she gets special treatment from Democratic interest groups. They ignore controversies involving the Clinton Foundation, deleted emails, and Benghazi as if they didn't exist. Since she won't talk about them, they won't mention them either.
Organized labor has threatened congressional Democrats inclined to vote for the Trans-Pacific Partnership with reprisals. TPP is the trade treaty backed by the president. Rep. Scott Peters of California was told unions would spend $1 million to defeat him in the primary and another $1 million in the general election if he voted for the treaty.
But Clinton has, in effect, been given a pass. As secretary of state, she was a vocal supporter of the treaty. But as a candidate, she has refused to take a position. And labor and the party's left wing, who furiously oppose TPP, have been largely silent for fear of damaging her candidacy.
Democrats have also put out the dubious story that the prospect of Clinton at the top of the ticket in 2016 is encouraging candidates to run for Congress. They claim a "Hillary effect" will unleash "an anticipated wave that will lift the party's fortunes up and down the ticket," Politico reported. Their point is she's necessary.
That Clinton has hastily moved to the left reflects her party. In fact, Clinton may be a lagging indicator of the Democratic lurch to the left. Her advisers insist her views are consistent with public opinion, which has adopted what were once left-wing views on same-sex marriage, immigration, minimum wage, climate change, free trade, and the cost of college. To the extent there's been a national shift, however, it's been less pronounced than the party's.
Does the tilt to the left represent an ideologically imaginative approach to politics and policy? Not quite. It mirrors the deference Clinton and Democrats pay to the liberal interest groups that make up their party's coalition. Only more so.
Comment by clicking here.
Fred Barnes is Executive Editor at the Weekly Standard.