Jewish World Review June 1, 2004 / 12 Sivan, 5764

Joanne Jacobs
Hard studies, soft studies; roll your own diploma; more
http://www.NewsAndOpinion.com | Read this moving story by the NY Times' Samuel Freedman on ROTC graduation at the University of New Hampshire.
From the second seat in the front row of the auditorium, Rachael Brown rose and marched onto the podium, standing before the flags of her state and her nation. She wore the crisp olive coat and skirt of her Class A uniform, and her black flats gleamed with a spit-shine. As a sergeant strode across the stage and toward her, she raised her right hand to be sworn into the United States Army as a second lieutenant.
Three rows from the back of the same room, Karen Brown gazed on this most improbable spectacle. Here was the daughter she had told about her own days protesting against the Vietnam War, the daughter who had led cross-country ski trips through the White Mountains, the daughter who had made that Bulgarian cheese casserole for the international dinner in her dormitory. And that daughter was culminating four years in the R.O.T.C. program at the University of New Hampshire and taking up what soldiers call "the profession of arms."
After Rachael, 22, had recited the oath, Karen Brown walked to the podium. She had on sandals and a batik peasant dress, and her corn-silk hair fell straight to her shoulders. At the appointed moment, she pinned the second-lieutenant's bars on Rachael's uniform. Then she lightly patted the bars, with a tenderness that suggested she was patting her memory of a little girl she wished to protect.
Rachael Brown will serve in a medical support unit.
Advanced BASIS
In Tucson, BASIS charter school students start taking college-level courses in ninth grade. The small school, which admits all applicants, has the highest AP participation rate of any public school in the country, writes Jay Mathews in the Washington Post. Yet at least half the students don't have college-educated parents.
To graduate, a BASIS student must pass AP English Language & Composition, AP English Literature, AP Calculus or AP Statistics, AP European History, AP American History and two of the three available AP science courses in physics, chemistry and biology. There are also AP courses in computer science and foreign language.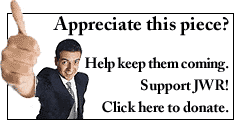 Middle school students take algebra by seventh grade, so they'll be ready for AP Calculus in 10th grade.
Founders Olga and Michael Block believe "that even a student who struggles in an AP course and gets a low grade on the final exam is much better off than a student who sails through a typically undemanding average high school course." Olga Block, a Czech native, was shocked by the lack of rigor in American schools.
They chose AP as their graduation requirement, said Michael Block, who serves as chairman of the school's board of trustees, "because it gave us this wonderful content, communicated that this is a very high level program and provided an extra check on teaching." AP examinations are written and scored by outside experts, and can help administrators see which teachers are doing the best jobs, although few schools use them that way.
Block admires Michael Barone's Hard America, Soft America: Competition vs. Coddling and the Battle for the Nation's Future.
"We are part of the new hard America," Block said. "I think our resistance to softness is one of our comparative advantages."
Roll Your Own Diploma
It doesn't take much to get a diploma from Beach High School in Soquel, Calif. Wes Beach, a former public high school teacher, requires only an essay, a letter of support from an adult and $240. Is he running a diploma mill? Or giving bored teenagers a chance to move on to community college or a job? The answer isn't obvious.
Beach's son started taking college classes when he was 10 and earned a bachelor's degree by the age of 17. The father started with programs for gifted youth, but soon branched out. The Santa Cruz Sentinel reports:
The criticism mounted after he left Soquel High in 1993 to focus on Beach High -- a one-room green shed, overflowing with books, next to the proprietor's rural Soquel home.
Beach -- who earns $20,000 to $30,000 a year and depends on his second wife, De Anza College English instructor Judy Hubbard, to be the chief provider -- says he is offering students who have struggled in traditional school settings with an opportunity to pursue a more productive path.
But critics say there are better alternatives for nontraditional students: charter schools, continuation schools for at-risk youth and other programs that offer more reputable diplomas than Beach High.
Many districts offer "Middle College," a program that lets high-school-age students earn credits at a local community college; it can work well for motivated, self-disciplined students. But most alternative programs have very low graduation rates.
Beach says employers who bother to read his transcripts will learn what a student has and hasn't studied.
But his larger response to critics is philosophical.
"There are dancers, there are musicians, there are plumbers, there are carpenters," he said. "They don't need to study trigonometry."
Beach "grads" have no trouble going on to community colleges, which are open to everyone with a pulse. Employers can't tell Beach High isn't a traditional school unless they look at a transcript; most employers don't bother. But the Army and Air Force no longer take Beach grads.
Commenting on Daryl Cobranchi's site, Laura Derrick says Beach has worked with the Homeschool Association of California on creating transcripts for home-schooled students and getting into college with a non-traditional education.
Some of the (Beach High) diplomas he awards are to kids who have done a pretty traditional curriculum. Others are very non-traditional, and their transcripts reflect that. Here's a paragraph that he includes on his non-traditional transcripts:
"Beach High School exists to support students who want to gain an education outside of a traditional high school setting. We award diplomas to students who convincingly present themselves as ready and able to move on beyond high school and who have established a direction for the next part of their lives. Our experience over many years has taught us that people succeed in wonderful ways, including through academic work in college, whenever they make deliberate, informed, and deeply personal decisions to move on."
Many students leave high school at 18 with a traditional diploma and very meager academic skills. But I don't think a high school diploma should mean merely that the student is sick of high school and eager to try something else.
Every weekday JewishWorldReview.com publishes what many in Washington and in the media consider "must reading." Sign up for the daily JWR update. It's free. Just click here.


JWR contributor Joanne Jacobs, a former Knight-Ridder columnist and San Jose Mercury News editorial writer, blogs daily at ReadJacobs.com. She is currently finishing a book, Start-Up High, about a San Jose charter school. Comment by clicking here.
© 2004, Joanne Jacobs