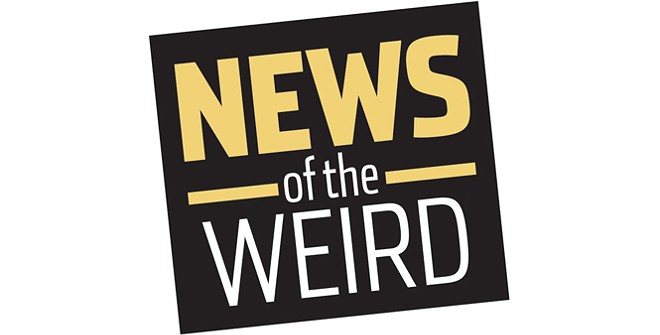 •
In College Station, Texas, the Peach Creek Vineyard is trying out a new concept for its wine-tasting events: wine with alpacas.
Teaming up with the Bluebonnet Hills Alpaca Ranch, the vineyard offers customers the chance to pet and take selfies with alpacas while sipping wine and shopping for yarn, wool or clothing.
"In 24 hours, we were sold out," vineyard owner Kenneth Stolpman told KTRK-TV. One event sold out so quickly Stolpman had to turn away more than 1,000 people. [KTRK, 4/22/2019]
• Police in Phoenix responding to a suspected child abuse call on April 19 arrived in time to see 27-year-old Rebecca Gonzales slap and punch her 7-year-old son in the parking lot of a Walmart store, reported ABC15-TV.
The boy, according to court documents, had been at Walmart with his grandmother and was supposed to be Grandma's lookout while she shoplifted, but Gonzales wasn't happy with his performance.
The boy, whose mouth was bleeding, told police his mother hit him because "he didn't watch out for his grandma good enough."
Gonzales was arrested for aggravated assault. [ABC15, 4/22/2019]
Columnists
Toons
Lifestyles
© 2021 Distributed by Universal Uclick