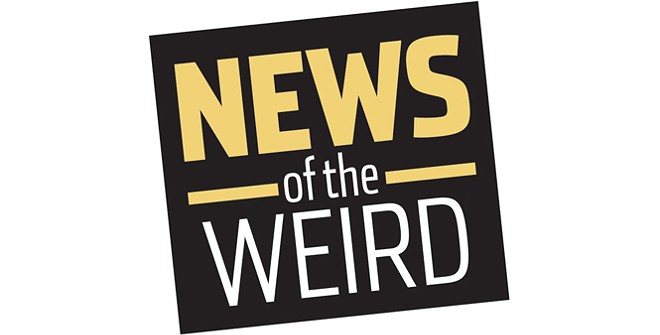 •
In Cary, North Carolina, Wake County Deputy J. Rattelade, responding to a report of a car crash on the evening of April 5, found one of the drivers, Derwood Johnson, 36, of Fort Worth, Texas, had gotten out of his car and removed all his clothes before starting to walk across the street.
As Deputy Rattelade tried to arrest him, Johnson hit her on the head, reported WTVD. With the help of other first responders and some pepper spray, Rattelade was able to subdue Johnson, who was charged with assault on a government official.
Rattelade was unhurt; Johnson was taken to an area hospital for further evaluation. [WTVD, 4/6/2019]
• On April 13, a family in Newtown, Connecticut, returned home from a morning shopping trip to find Joseph Achenbach, 35, wandering around inside their home naked.
The Watertown man had crashed his SUV in the homeowners' backyard and moseyed inside through an unlocked glass door.
Achenbach's clothes could not be found at the scene, leading police to believe he had been naked when he crashed.
FOX61 reported that he was charged with second-degree criminal trespassing and driving while intoxicated. [FOX61, 4/15/2019]
Columnists
Toons
Lifestyles
© 2021 Distributed by Universal Uclick