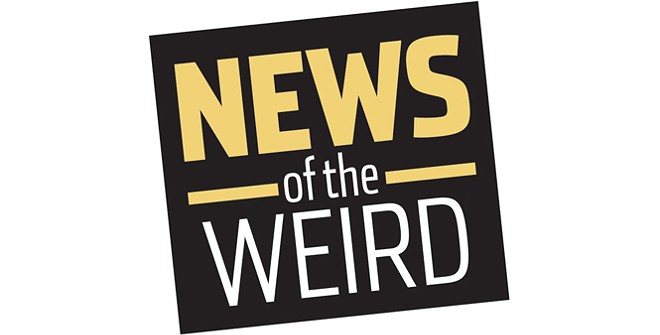 •
Kaz James, 37, from Salford, Greater Manchester, England, has known since he was a child that he was different from other people. "I didn't ever feel like a human. I always felt like a dog that was really out of place," James told Metro News. He first started to understand his peculiarity when he gained access to the internet at 17 years old.
"I was known by my friends for ... grabbing hold of the collar of their shirt in my teeth and biting or licking them, very canine-type behaviors," James said.
Today he eats out of a dog bowl and owns three custom-made dog suits -- one a $2,600 fur suit shipped from Canada. "(M)y behaviors were quite dog-like in childhood, probably from the age of 6," he said. "No one ever talked about it. It was never mentioned." [Metro News, 4/3/2019]
• The Smuggler's Inn on Canada View Drive in Blaine, Washington, sits just a stone's throw from the Canadian border. Fittingly, on April 4, a Canadian court charged its owner, Robert Joseph Boule, 69, with 21 counts of "inducing, aiding or abetting" seven people who tried to illegally enter Canada between May 2018 and March 2019.
Boule had remarked to CBC News in the past that it wasn't unusual to see people with night-vision goggles sneaking across the border at night.
He remains in custody in Canada. [CBC News, 4/9/2019]
Columnists
Toons
Lifestyles
© 2021 Distributed by Universal Uclick