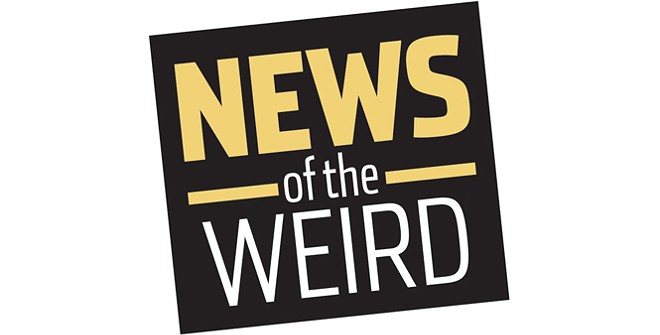 •
In Raleigh, North Carolina, residents of The Dakota apartment complex are stepping out a little more confidently after management engaged the services of a company called PawzLife.
The Raleigh News and Observer reported on March 22 that residents were growing disgusted with the amount of dog feces on the sidewalks and green spaces around the complex.
So management turned to a high-tech solution: Residents who own dogs are required to bring them to a "pup party," where PawzLife collects their DNA with a simple saliva swipe and creates a "unique DNA profile" for each dog.
The company then visits the neighborhood to pick up any stray poop, and owners whose dogs are a match with the poop DNA are fined $100 per offense.
PawzLife owner Matthew Malec said, "We are just trying to make the Earth a little bit better to live on." [Raleigh News and Observer, 3/22/2019]
• The Carter County (Tennessee) Sheriff's Department had some strong leads in the death of Edith Betty Ralph, 75, on April 6, but none stronger than the behavior of John Christopher Ralph, 51, Edith's son, who had been living with her and had repeatedly complained to friends and family that she was "driving him crazy."
"The night of Mrs. Ralph's murder, John asked co-workers to take pictures of him at work saying that if anything happened to his mother he would need an alibi," according to the sheriff's department.
ABC News reported that Edith was found deceased due to severe head trauma and several gunshot wounds.
John was stopped at Atlanta's Hartsfield-Jackson International Airport, ready to board a flight for Amsterdam. He was held on a $1 million bond. [ABC News, 4/7/2019]