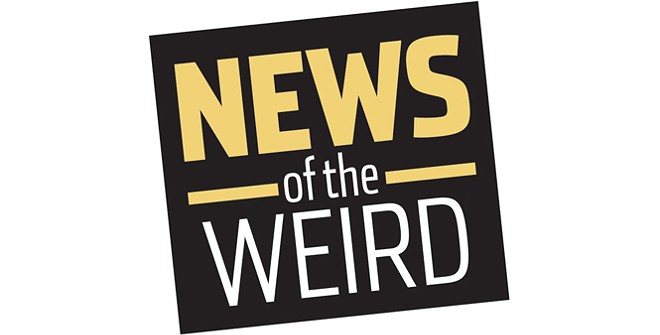 •
Who has time to bother with long lines and bureaucracy at the driver's license office? Not Mr. Tang of Liuzhou, China, who was pulled over for a routine check as he rode his silver motorcycle.
Tang was happy to produce his license, carried in the customary cover, reported Oddity Central. But when officers examined it, they realized it was homemade.
"He behaved very calmly as he took out the license," a traffic police officer said. "But I was shocked when I saw what was inside."
Tang had simply written all the pertinent information found on a standard driver's license on a piece of lined notebook paper, then glued a photo of himself to the paper.
When pressed for an explanation, Tang said he was too lazy to study for the license exam and didn't want to spend the money on driving classes. He thought a handwritten license would be better than nothing at all.
"I didn't expect the traffic police to be so serious," Tang said. [Oddity Central, 4/2/2019]
• Where others see innocent little girls raising money for educational programs, some see an opportunity to pad their bank account.
So it went for Brian Couture, 40, of Forest Grove, Oregon, who is accused of going to elaborate lengths to skim more than $700 of Girl Scout cookie money from his daughter.
Forest Grove police responded to a 911 call at Couture's home on March 6, where the man said an intruder had entered his home and struggled with him. When police arrived, according to KPTV, Couture was "unresponsive" and was taken to the hospital with undisclosed injuries, while K9 units set out to look for the thief around the neighborhood, alarming residents.
Police said Couture later admitted to investigators that he had staged the whole thing, but at his hearing, he pleaded not guilty to initiating a false report. The money, according to a Girl Scouts spokeswoman, is still unaccounted for. [KPTV, 3/29/2019]
Columnists
Toons
Lifestyles
© 2021 Distributed by Universal Uclick