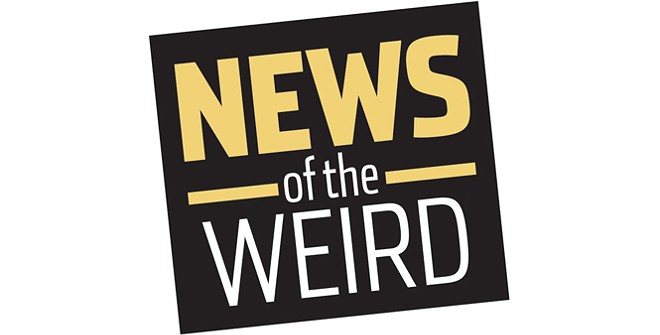 •
Seventeen Chicago police officers raided a home on Feb. 10 with a search warrant in hand as a 4-year-old child's birthday party was underway. The suspect they sought hadn't lived at that address for five years, WLS TV reported.
But that didn't stop officers from smashing the birthday cake, trashing the apartment and pointing guns at the birthday boy and his 7-year-old sister, who has now developed a fear of police officers, according to her mother.
None of the contraband items listed in the warrant were found at the home.
On March 26, the family filed a civil rights lawsuit in federal court. [WLS TV, 3/26/2019]
• In downtown Borrego Springs, California, a curious sign tops a 5-foot-tall post in front of the Anza-Borrego Desert Natural History Association gift shop: "This Post Not Currently In Use."
Mike McElhatton, the association's education director, told The San Diego Union Tribune: "When I started working (here) I saw this post that ... had obviously been there for a long time. At first I just wondered what in the heck was the post for and then I got the idea to put a sign on it."
McElhatton seemed disappointed with the response, though: "Amazingly, we don't get a whole lot of comment about it. I've seen people walk up and they just look at the sign and they just keep going." [San Diego Union Tribune, 4/2/2019]
Columnists
Toons
Lifestyles
© 2021 Distributed by Universal Uclick