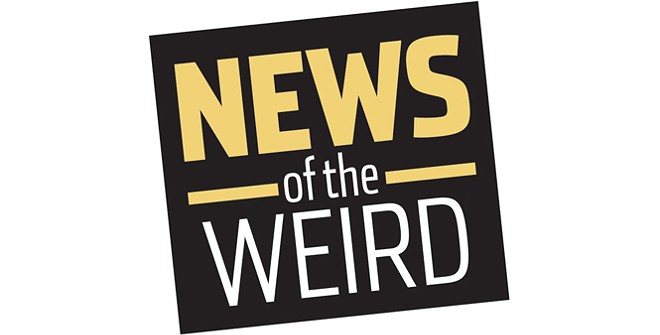 •
Bystanders at Moscow's Domodedovo Airport got an unexpected show when an unnamed man made his way through Ural Airlines flight registration, then suddenly stripped off all his clothes and ran onto the jet bridge.
A fellow passenger told REN TV: "He shouted that he was naked because clothing impairs the aerodynamics of the body. He flies with more agility when undressed."
The nude man, who hails from Yakutsk but lives near Moscow, was intercepted by airport staff before he made it to the plane and was turned over to police, then moved to a hospital.
Witnesses said he did not appear to be drunk. [The Moscow Times, 3/24/2019]
• You don't need to be celebrating a birthday to get a special cake these days.
In Nashville, bakers at Signature Desserts made the news in early March when they filled an order for a woman trying to sweeten the deal for her husband, who was undergoing a vasectomy.
FOX 17 reported the cake was decorated with lemons and read, "100% Juice, No Seeds. Happy Vasectomy!"
The pleased recipient "loved it!" according to his wife.
The news outlet also reports that doctors see a big spike in vasectomies during the NCAA basketball tournament, when men have a constant source of entertainment as they heal. [FOX 17, 3/9/2019]