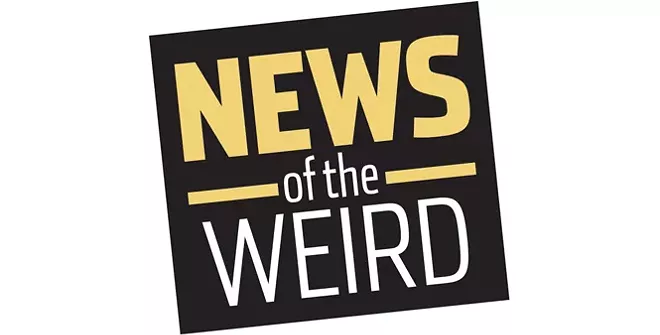 • Even before it opened last year, Apple's spaceship building in Cupertino, California, presented a transparency problem: Its glass walls couldn't be distinguished from its glass doors, and since moving in on Jan. 2, several workers have been injured after walking into them.
The San Francisco Chronicle reported three people suffered head injuries severe enough to summon emergency responders.
Apple's vice president of real estate and development, Dan Whisenhunt, told the local Rotary Club in January there hadn't been any problems with birds flying into the glass.
"Now the humans on the inside, that's a different story," he said. "That's a problem we are working on right now." Architects have added black rectangular stickers to the glass panes, which seem to be helping. [San Francisco Chronicle, 3/2/2018]
• Houston detectives were finally able to close a case in January that had been vexing them for 30 months.
Mary Stewart Cerruti, 61, the last holdout in a neighborhood being bought up for redevelopment, was reported missing in August 2015 by a friend, who described her as shy and frail, the Houston Chronicle detailed. However, police had no leads, and her home was foreclosed on after payments stopped.
Eventually, the home was cleaned out and sold, and new renters moved in. On March 4, 2017, a 911 call reported a human skeleton "between two of the walls" in the home.
When police arrived, they found a hole in the attic floorboards and down below were the bones, clothing and shoes that had been discovered' an investigation found no evidence of foul play. On Jan. 23, the Harris County Institute of Forensic Sciences confirmed the remains were those of Cerruti. [Houston Chronicle, 1/23/2018]