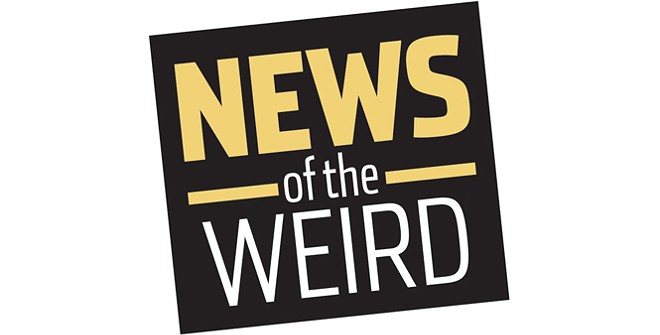 • Authorities executed a search warrant relating to a narcotics investigation in the South Texas town of Mercedes on March 25, but what they seized wasn't drugs.
Drug Enforcement Administration Special Agent Sammy Parks told the Associated Press that officers had been warned there were exotic animals on the 5-acre property, and game wardens who joined the search found a white Bengal tiger, bobcat, kinkajou, porcupines, llamas, emus and deer.
While no arrests were made, the Texas Parks and Wildlife Department had to euthanize three of the animals; the remainder were removed to the Austin Zoo for examination and rehabilitation. [Associated Press, 4/3/2020]
• Police on horseback and motorcycles in Hyderabad, India, are reminding civilians about the dangers of COVID-19 by wearing large red masks and headdresses in the shape of the virus as they patrol.
Police Commissioner Anjani Kumar said the masked officers would be stationed at various city junctions, Fox News reported.
Ironically, the city organized a rally on April 7 to kick off the awareness campaign, displaying signs reading "Please Avoid Gathering" and "Social Distancing Is Social Responsibility." [Fox News, 4/7/2020]