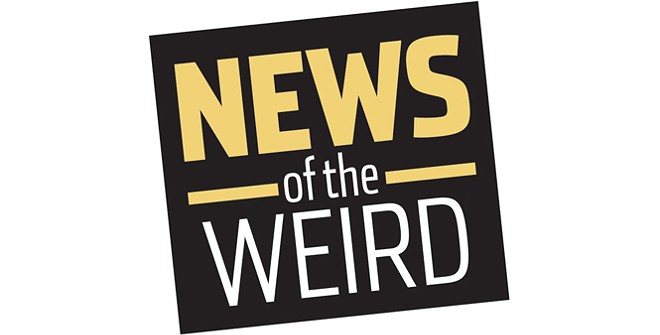 • Vicar Simon Beach, 61, of St. Budeaux Parish Church in Plymouth, England, was uncomfortable enough as he launched into his first virtual church service on March 22, calling it "surreal."
But as he leaned into the camera to deliver the final portion of his sermon, he looked to his left and calmly deadpanned, "Oh dear, I've just caught fire."
Beach had leaned a bit too close to one of several nearby candles and ignited his sleeve.
"I just felt my arm getting a bit hot," he told Metro News.
The flame damaged his sweater and shirt, but did not burn his skin.
Beach was teased a bit by fellow vicars, who razzed him for being "on fire for Jesus."
"People have laughed and laughed, really," Beach said. [Metro News, 3/22/2020]
• Steve Walton of Shotley Bridge, England, took a bad spill in 2018 and, after a series of surgeries, had to have the lower part of his leg amputated in January.
He was scheduled to be fitted with a prosthetic leg in mid-March, but his appointment was delayed because of the coronavirus crisis.
That was when his wife, Atchari, went to work, making a leg for him using a bucket, fiberglass resin and wood.
The first attempt kept falling off ("It was more akin to something Long John Silver would wear," Walton said), but Ms. Walton refined her project using a moon boot, and it worked.
"My wife is very practical. She can turn her hand to anything," Walton told the BBC.
"I am not going to use this regularly, but it will be good for getting around the house for the next three to six months. There are people far worse off than me at the minute." [BBC, 3/24/2020]