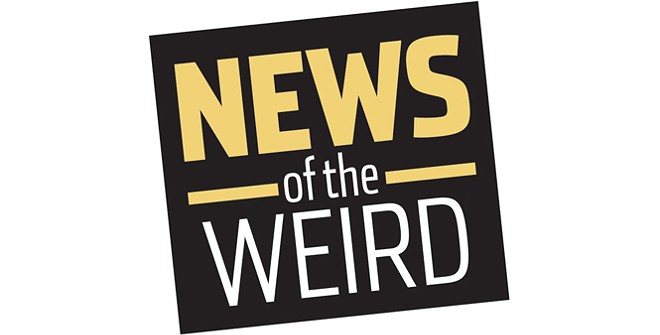 • In 1993, Alabama banned yoga in public schools under a general prohibition of the use of "hypnosis and dissociative mental states."
Now, Rep. Jeremy Gray has proposed a bill that would let schools offer yoga as an elective class, but religious groups are expected to fight it.
"It's the Hindu religion," said Joe Godfrey of the Alabama Citizens Action Program.
But Gray is hoping the general acceptance of yoga will prevail. "I really don't see what the big deal is," he told NBC News. "I mean, my wife does this, my mother does this on the floor of her Methodist church." [NBC News, 3/6/2020]
• Cody Hicks, 23, was reportedly driving erratically and crashed into another car on March 13 in Manatee County, Florida -- in itself, not weird. But what he did next perplexed the two young women in the car and onlookers.
According to the Manatee County Sheriff's Office, Hicks emerged from his vehicle, pulled down his pants and underwear, and fondled himself while sticking out his tongue at witnesses.
ClickOrlando.com reported deputies said Hicks would only tell them, "I want my lawyer." He was arrested for a lewd and lascivious exhibition and entered a plea of not guilty. [ClickOrlando.com, 3/19/2020]