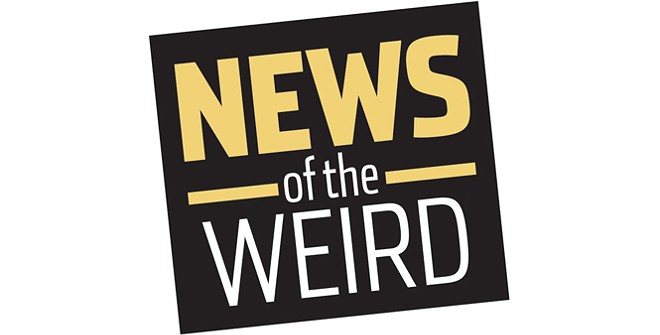 • When Alexandria Miller, 28, of Chicago, Illinois, won a two-inch goldfish at a carnival in July 2018, she assumed he would stay the same size.
But since then, Gerald the goldfish has grown to be 12 inches long, and Miller has spent $1,300 upgrading his tanks to accommodate him (she's already looking for a bigger one).
And, the Mirror reported, Gerald is not shy about getting his needs met.
"He does lay around a lot, but it seems when he's bored or hungry, he jumps out of the water and likes to grab the thermometer inside his tank," Miller said.
"He'll click it against the glass till he's got our attention."
But, she went on, "If I put a smaller fish in there with him, he will eat them." [Mirror, 3/17/2020]
• Slidell, Louisiana, police pulled over a driver on Feb. 27 for an undisclosed reason, but the car's license plate really got their attention.
The tag had expired in September 1997 -- more than 20 years ago -- the Miami Herald reported.
"Sorry, officer," police said the man told them. "I've been busy lately and totally forgot to renew my vehicle registration. I will take care of it as soon as I get home!"
Slidell police posted the incident to their Facebook page, commenting: "For those of you who like to 'switch tags,' at least give us a good challenge." [Miami Herald, 3/5/2020]