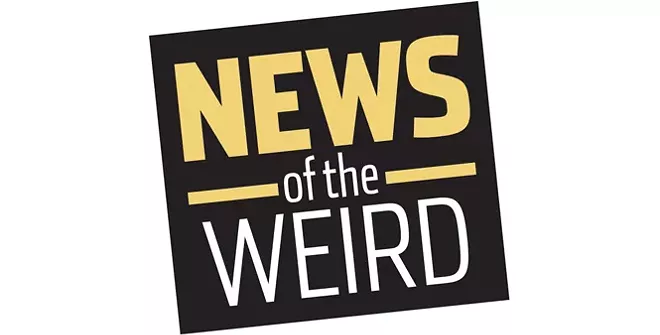 •
If you've been wondering whatever happened to Barney the Dinosaur, the Daily Mail has the answer for you.
David Joyner, 54, romped inside the big purple suit for 10 years on the 1990s "Barney & Friends" show on PBS. Today, he's a tantric sex guru in Los Angeles.
He claims he can unite his clients' body, mind and spirit through tantric massage and unprotected sex.
Joyner credits his tantric training with helping him endure the 120-degree temperatures inside the Barney suit.
While "surprised," Stephen White, former head writer on the show, said he sees Joyner's new vocation as the "'I love you, you love me' deal, but different. I don't judge or anything, but that's a side of David I didn't know." [Daily Mail, 1/23/2018]
• Bradley Hardison, 27, of Elizabeth City, North Carolina, achieved minor celebrity status in 2014 when he won a doughnut-eating contest sponsored by the Elizabeth City Police Department. (He ate eight glazed doughnuts in two minutes.) At the time, police had been looking for Hardison as a suspect in break-ins going back to 2013, so they arrested him, and he received a suspended sentence that ended in October 2017. But a doughnut habit is hard to break: The Virginian-Pilot reported that Hardison was charged on Jan. 18 with robbing a Dunkin' Donuts store on Nov. 21. [Virginian-Pilot, 1/19/2018]
Columnists
Toons
Lifestyles
© 2021 Distributed by Universal Uclick