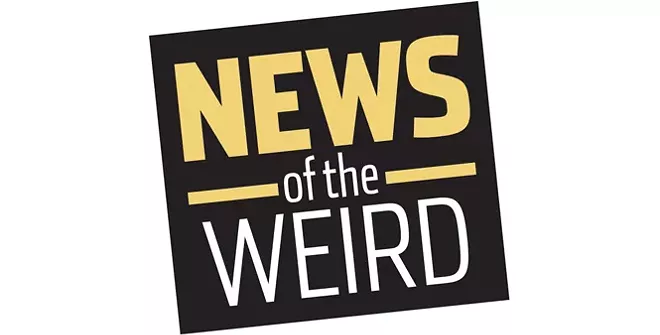 •
Chris McCabe, 70, of Totnes, England, escaped a frigid death thanks to his own quick thinking.
McCabe owns a butcher shop, and he had entered the walk-in freezer behind the shop when the door slammed behind him.
Ordinarily that wouldn't be a problem, as a release button inside the freezer can open the door. But the button was frozen solid.
So McCabe looked around the freezer and saw the shop's last "black pudding," or blood sausage, which he used as a battering ram to unstick the button.
"They are a big long stick that you can just about get your hand around," McCabe told the Mirror. "I used it like the police use battering rams to break door locks in. Black pudding saved my life, without a doubt."
He believes he would have died within a half-hour in the -4-degree freezer. [The Mirror, 1/11/2018]
• Linda Jean Fahn, 69, of Goodyear, Arizona, finally succumbed to a frustration many wives suffer.
On Dec. 30, as her husband sat on the toilet, she barged in and "shot two bullets at the wall above his head to make him listen to me," she told Goodyear police when they were called to the scene.
Fahn said her husband "would have had to be 10 feet tall to be hit by the bullets," ABC15 in Phoenix reported, but officers estimated the bullets struck about 7 inches over the man's head as he ducked.
She was charged with aggravated assault. [ABC15 Arizona, 1/8/2018]