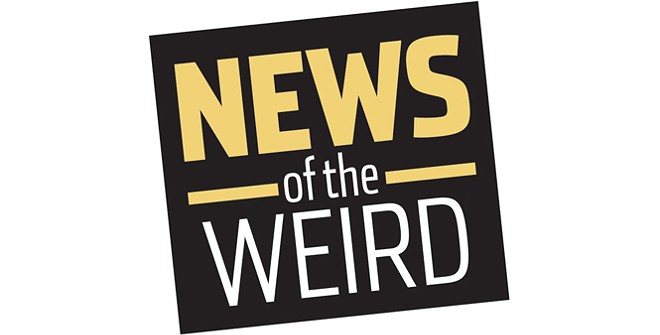 • Ohio college student Mendl Weinstock, 21, kidded his sister, Riva, five years ago that when she gets married, he will bring a llama to the wedding as his plus-one.
So when Riva tied the knot on March 1, Mendl made good on his promise, showing up with a rented llama named Shockey, wearing a custom-made tuxedo.
Riva was unamused, but conceded to CNN: "When my brother puts his mind to something, he gets it done."
Mendl spent $400 to rent the llama but said it was worth every penny. Shockey spent about 30 minutes taking photos with amused guests outside the venue, but friends who were in on the joke seated two inflatable llamas at one of the tables inside.
Riva said she'll get her revenge: "He should sleep with one eye open." [CNN, 3/4/2020]
• Keith Redl of Dawson Creek, British Columbia, was more than a little annoyed when the prize his 8-year-old grandson won in a raffle turned out to be $200 worth of cannabis products and accessories: chocolate edibles, vanilla chai and other products, along with a pipe and lighter.
At a fundraiser for youth hockey in early March, Redl told CTV, the boy's father had given him $10 worth of tickets to bid on whichever prizes he liked.
The little boy thought he was bidding on chocolate. "My grandson thought he had won a great prize," Redl said, but when he was told he couldn't have any of it, "He was mad ... How do you explain that to a kid?" [CTV, 3/2/2020]