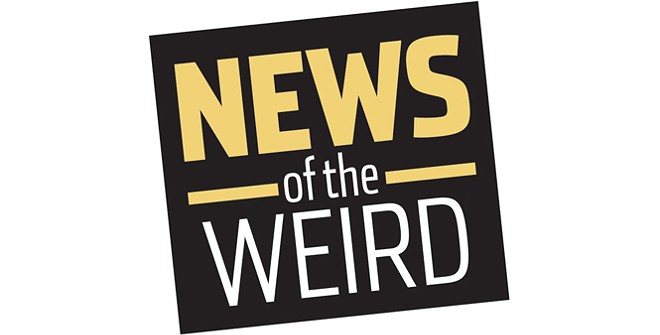 • Chuck E. Cheese may be "where a kid can be a kid," but for one Portland, Oregon, patron, it's where a woman can get her long hair caught in a ticket machine.
Ashreana Scott is suing Chuck E. Cheese's parent company for $1,000 after alleging her hair was tangled for 20 minutes in a machine that counts tickets for prize redemption, The Oregonian reported.
In the lawsuit, Scott said the Dec. 8 incident caused injuries, discomfort and headaches, and she wants a jury trial and a sign posted near the machine to warn others.
A manager at the restaurant declined to comment on the lawsuit, but said the machines already have warning signs. [Oregonian, 3/2/2020]
• The ancient legend about St. Patrick driving Ireland's snakes into the sea could only be salt in the wound of a 22-year-old man from Dublin, who appears to be the first person in Ireland to suffer a venomous snake bite, The Irish Post reported on Feb. 29.
The man's pet puff adder bit him, prompting a visit to Connolly Hospital, where doctors consulted with experts from the National Reptile Zoo.
James Hennessy, zoo director, explained that "puff adder venom is pretty nasty. It's going to start digesting and disintegrating all around the area of the bite, and that will continue up the limb as well. It will then cause massive internal issues as well, if not treated."
(FYI, scientists say it was probably the Ice Age that kept snakes out of Ireland.) [The Irish Post, 2/29/2020]