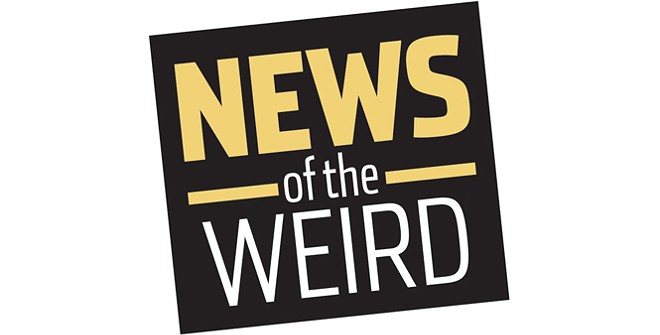 • For two whole years, Caelie Wilkes nurtured a lovely green succulent in her kitchen window.
She watered it, wiped dust off its leaves, and forbade anyone else from caring for it.
"It was full, beautiful coloring, just an overall perfect plant," Wilkes wrote in a Facebook post from Feb. 28.
Recently, Upworthy reported, she decided it was time to transplant it into a pretty new pot.
So imagine her dismay when she pulled up the succulent and realized it was plastic, rooted in Styrofoam with sand glued to the top.
"How did I not know this?" she wondered. "I feel like these last two years have been a lie."
Wilkes suffered some ridicule on social media, but her local Home Depot reached out with some real, living succulents that Wilkes can shower with love and attention. [Upworthy, 3/4/2020]
• An innovative jewel thief in Melbourne, Australia, was caught on camera using a fishing rod to burgle a Versace necklace from a store window.
ABC News reports the thief carefully broke a hole in the window to avoid setting off the alarm, then spent almost three hours trying to hook the costume jewelry necklace, worth about $800.
He worked with two different-sized rods before finally snagging the necklace.
Store owner Steven Adigrati called the heist "outrageous and courageous," although he suspected the thief was unaware that the piece was relatively inexpensive.
"This particular necklace looks a lot more expensive than what it is ... gold, bright, iconic Medusa head," he explained. Police are still searching for the fisherman. [ABC News, 3/3/2020]