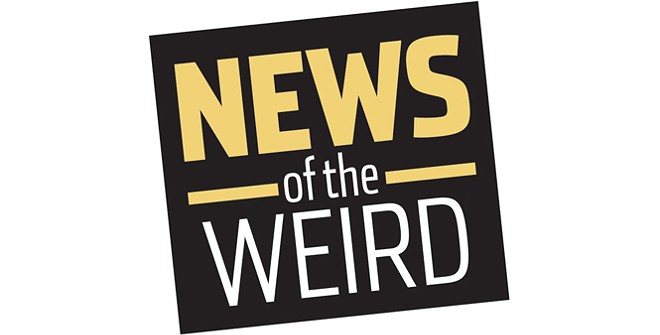 • Police in Speyer, Germany, gave chase after they were passed by a car driving at high speed with its lights off on Feb. 14.
The suspect, a 26-year-old man, pulled over and ran from the car, leaving a trail of scent that was so distinct officers said they were able to follow it from the car to the man, who was hiding behind a hedge.
"Due to the cloud of perfume that was detected inside the car and on the man," police said, "it was possible to identify him as the driver," the Associated Press reported.
His breath didn't smell so good, though: He was far over the alcohol limit. [Associated Press, 2/15/2020]
• The woman who attempted to board an airplane with her emotional support peacock made headlines, but in Port St. Lucie, Florida, one man is questioning why his particular support item has been banned from the dialysis center where he takes treatments three times a week.
Nelson Gibson first brought an 8-by-10-inch photo of President Donald J. Trump to comfort him as he endured the 3 1/2-hour treatments, then exchanged that for a small cardboard cutout of himself standing next to a Trump photo.
When he next arrived with a life-size cutout of the president, no one complained, Gibson told WPBF, but on Feb. 11, "they told me it was too much and it wasn't a rally."
"It just feels like bringing something from home to make you comfortable," Gibson said, noting that others bring items, including one woman who pops bubble wrap during the entire treatment. "That's very nerve-wracking," he said. It's unclear whether Gibson will return to the center for treatments. [WPBF, 2/12/2020]