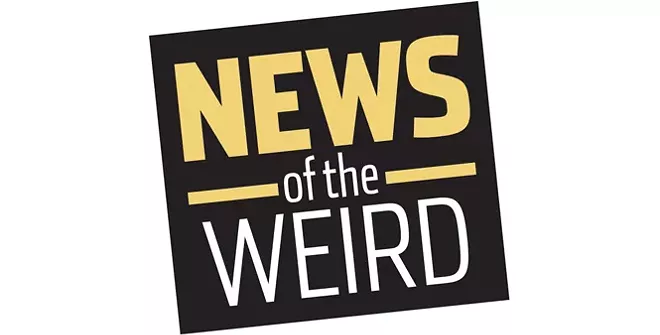 •
In Parkland, Washington, state troopers and Pierce County Sheriffs officers responded to a call about a man who had stopped his SUV in the middle of an intersection and was waving around an AK-47 and screaming about "lizard people."
The 54-year-old Eatonville man obeyed when officers ordered him to lie on the ground, but resisted being handcuffed until officers tased him.
He told them he had "snorted methamphetamine to lose weight" and that President Donald Trump had called his home to warn him that the lizard people were coming and his family members were already being held hostage by the "alpha dragon," according to The News Tribune.
"The lizard people are real," he told police, explaining that he wanted to attract attention so that his "story could be documented for history." [The News Tribune, 12/1/2017]
• Dovey the Shar Pei, of Edmond, Oklahoma, might be just a bit jealous of the new baby at his owners' home.
But in a classic passive-aggressive move, he settled on stealing pacifiers.
Scott Rogers and his wife noticed that binkies were disappearing, but it wasn't until Dovey started vomiting and losing weight in early December that they tracked down the lost items.
KFOR-TV reports that Dr. Chris Rispoli of Gentle Care Animal Hospital took an X-ray of Dovey's stomach and saw what he thought were seven to nine pacifiers.
But when Rispoli opened up Dovey to remove them, he found 21 binkies.
Turns out, Dovey was taking the pacifiers off the kitchen counter. "We've had corn cobs and socks and panties and things like that, but never 21 binkies," noted Rispoli. [KFOR-TV, 12/8/2017]