Jewish World Review March 4, 2004 / 11 Adar, 5764

Zev Chafets
How to rebuild Haiti
http://www.jewishworldreview.com | It was entirely predictable that deposed Haitian President Jean-Bertrand Aristide would claim that he was overthrown and kidnapped by the United States.

It is equally predictable that some Americans like Reps. Charles Rangel (D-Manhattan) and Maxine Waters (D-Calif.) deem Aristide a victim. They belong to the Victim Internationale, for whom problems in the Third World are always someone else's fault.

Haiti has been independent for 200 years. It is the poorest nation in the Western Hemisphere. It has no infrastructure, no democratic institutions, no decent government. Right now, only U.S. Marines separate it from total chaos.

But Haiti is a land rich in excuses. It is the victim of French colonialism, or racism, of capital exploitation and/or American imperialism. Faced with such implacable, uncontrollable external enemies, President Aristide never had a chance. Neither does Haiti.

Some Haitians are not so cynical or fatalistic. One of them, Gary Pierre-Pierre, publishes a newspaper in Brooklyn. The audience for The Haitian Times is the estimated half-million Haitians living in the tristate area and the additional 500,000 or so who live elsewhere in America.

These emigrants are already a major force in Haitian life. Every year, they send home hundreds of millions of dollars, by far Haiti's largest source of income. But Pierre-Pierre wants them to do more.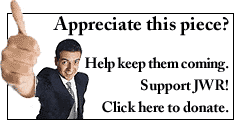 "We need to become involved in nation building," he says. "We have the technical expertise Haiti lacks. One-third of all black doctors in New York State are Haitian. The number of engineers is even higher. There are financial advisers among us, bankers, administrators. New York's deputy state controller is Haitian."

Pierre-Pierre believes that these Haitian expatriates can do things other American aid workers cannot. After all, they speak the language and know the culture. And they are less likely to be intimidated. "White aid workers sometimes don't want to argue or press too hard for fear of being labeled racists," he says. "That's just a Haitian thing. They can't do that with us."

But are American-Haitians willing to sacrifice their relative prosperity for the perils and hardships of their native land? Pierre-Pierre has a plan.

"There are Haitian officers in the NYPD who could go down to help establish the rule of law," Pierre-Pierre says. "But someone has to pay their salaries. Same for other Haitian-American technocrats and professionals. The federal government could do that, channeling the money through their employers."

Pierre-Pierre's idea is based on the French model of dispatching bureaucrats to former French colonies. But it has an American twist. This would be a rebuilding corps drawn from the ranks of people with an instinctive understanding of and emotional commitment to the nation they are sent to assist.

This strikes me as a good idea for Haiti - and beyond. There are plenty of other failed states in the Victim Internationale whose most productive sons and daughters now reside in the United States. They have enriched their new country with the energy they brought here.

Now they can do as much for their homeland by bringing back the skills and optimism they have acquired in a place that puts a higher premium on finding solutions than making excuses.
Enjoy this writer's work? Why not sign-up for the daily JWR update. It's free. Just click here.


JWR contributor Zev Chafets is a columnist for The New York Daily News. Comment by clicking here.
© 2004, NY Daily News