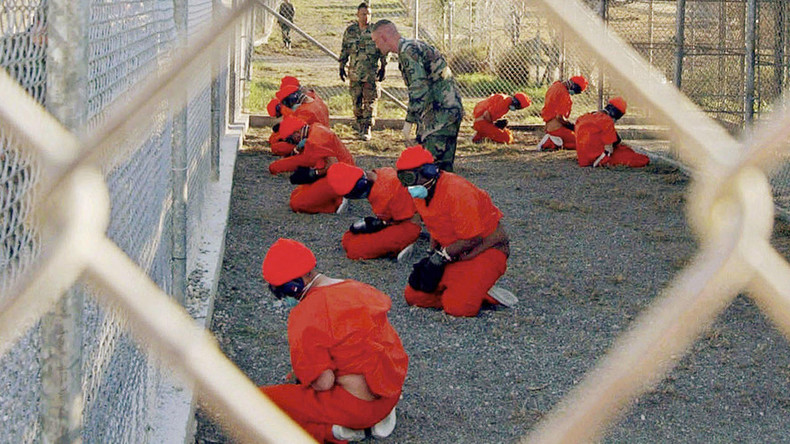 As the Islamic State's caliphate in Syria crumbles, hundreds of terrorists are being swept up and detained by the U.S.-supported Syrian Democratic Forces, a large portion of them European citizens. Sen. Lindsey O. Graham, R-S.C., spent last weekend pushing top European officials to take possession of these prisoners and build them a new prison - a European version of Guantanamo Bay.
In meetings with top British, French and other European officials alongside the Munich Security Conference, Graham repeatedly pressed European governments to come up with a plan to take captured Islamic State fighters off the battlefield and interrogate them outside of the established criminal court systems. Not surprisingly, the European officials were unenthusiastic about Graham's suggestion.
"There needs to be a European law of war confinement facility," said Graham, who delivered this message directly to British Prime Minister Theresa May and others. "If you object to Gitmo, you need to come up with some facility of your own. Most of these people are European."
There are about 500 Islamic State fighters being held in Syria by the SDF right now and the number could soon climb into the thousands, he said. They include two of the four "Beatles," the cell of British terrorists who are alleged to have tortured and beheaded Western hostages, including possibly two American journalists.
Graham said he is pushing the Trump administration to take the "Beatles" and some other prisoners into U.S. custody at the prison at Guantanamo Bay. Graham was a big supporter of President Trump's January decision to order Defense Secretary Jim Mattis to keep Guantanamo open. But most of the prisoners will have to go elsewhere.
"The Europeans are in complete denial," Graham said. "Every engagement with the Europeans we are asking them, 'What are you going to do?' There is no European plan for detention."
Graham said that Mattis encouraged him to raise the issue with the European leaders at the conference. A spokesperson for Mattis didn't respond to a request for comment.
If European governments don't do anything, the SDF will probably either release the militants or kill them, according to Graham. If they are released, they pose an ongoing threat. If they are killed, their intelligence value is wasted, he argued. May told Graham in their meeting that the British citizens would have to be afforded criminal due process.
"I said, 'With all due respect, Madame Prime Minister, I'm not worried about prosecuting these people in criminal court. I'm worried about keeping them off the battlefield. They are unlawful enemy combatants,'" Graham told me. "The Europeans are trying to criminalize this process. This is a war we are in."
For Graham, it's not just about these prisoners but also about getting Europe on board with his policy for handling captured terrorists for the duration of the war against Islamist extremism. He suspects European countries are killing their own citizens to avoid dealing with the issue.
"They commit planes to drop bombs. If you are willing to drop a bomb on them, you ought to be willing to put them in jail," he said. "I'm putting a lot of pressure on the Europeans to get real in terms of the war."
Europe experts pointed out several reasons Graham's pitch for Europe to build its own Guantanamo-type prison is going to be a very hard sell. For one, these same European countries objected loudly to the idea of the original Guantanamo prison and the legal limbo it created 16 years ago.
Moreover, the CIA's use of secret detention facilities in European countries sparked a huge backlash against cooperating European governments when their existence was revealed.
"In the Bush administration, renditions and detention were a source of great controversy because it wasn't known, and governments came under great scrutiny," said Heather Conley, senior vice president for Europe at the Center for Strategic and International Studies.
"Right now, the allies are very bruised on a lot of issues, so it makes it hard on big requests to receive a positive answer," she said.
Comment by clicking here.