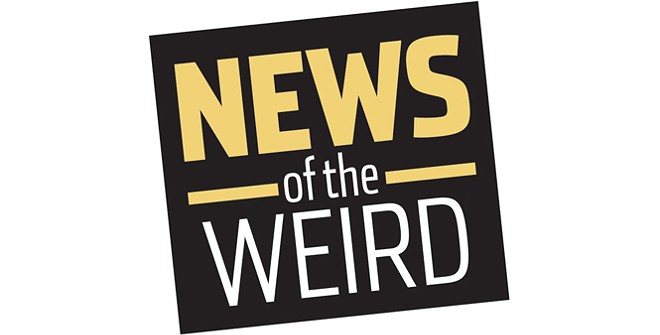 • After Dona Maria Schiave failed her driver's license test three times in the Novo Mutum Parana district of Brazil, her son, Heitor Marcio Schiave, 43, decided to take matters into his own hands.
On Dec. 10, he donned a stuffed bra, long skirt and makeup and showed up at the State Department of Traffic, claiming to be his mother, ready to take the test again.
Aline Mendoca, the examiner, became suspicious and summoned the military police.
"I thought she was drunk at first," she told globo.com. "When I realized that the student was actually a man, I decided to proceed normally" and wait for officers. "I think he pitied his mother for failing three times."
Schiave was arrested for fraudulent misrepresentation and released; he may face a fine. [globo.com, 12/11/2019]

• Kari and Dustin Drees bought their first home in Atlanta's Buckhead district in December and shortly thereafter left on vacation to visit family.
While they were gone, an alarm went off, and friends reported nothing was amiss, but when the Dreeses returned home, they discovered an uninvited visitor had moved in: a squirrel.
The animal had apparently fallen down the chimney and become trapped inside, where it did a lot of damage -- defecating, scratching floors, chewing baseboards and building a nest in the couch.
No worries, the couple thought: "This is why you have homeowner's insurance," Kari told the Associated Press.
Not so fast: The couple's insurance "explicitly stated" it doesn't cover damage done by rodents, and a squirrel is a rodent.
Small comfort: The company did offer to provide housing for the couple for up to two weeks. [Associated Press, 1/7/2020]