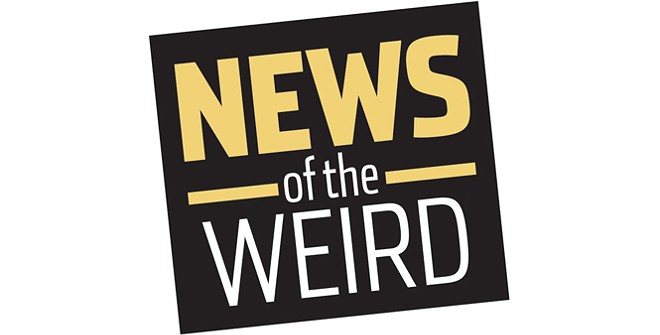 • Police in Wichita Falls, Texas, say they responded to a report on Jan. 5 that Christopher Ragsdale choked and headbutted his unnamed girlfriend after she complained about his odorous gas.
"She told Christopher that his fart smelled horrible and he got mad and grabbed her by the hair and pulled her to the ground," the Associated Press quoted the arrest affidavit.
The altercation took place at a friend's house, and that friend called police.
Ragsdale was held on $10,000. [Associated Press, 1/8/2020]

• Four Amish men pleaded guilty in Gladwin County (Michigan) District Court on Jan. 8 to charges stemming from an earlier incident in Beaverton Township. According to the Midland Daily News, deputies from the Gladwin County Sheriff's office responded on Dec. 29 to a call from a concerned motorist who observed the four men tossing empty beer cans from the horse and buggy they were riding in.
When deputies pulled them over, they gave bogus ages and would not confirm their names, authorities said, yet the men appeared to be inebriated, and a search of the buggy turned up empty alcohol containers along with unopened ones. Levei Mast, 20; Andrew Zook, 19; Joseph Miller, 20; and Joseph Troyer, 19, each paid a $700 fine and $150 in court costs.
They have yet to face the bishop. [Midland Daily News, 1/8/2020]