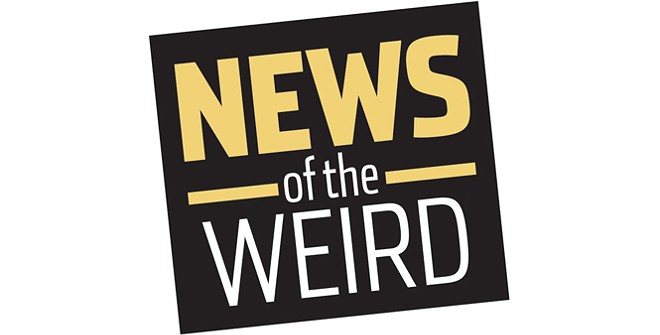 • KION TV reported on Jan. 7 that a Salinas, California, family's Ring doorbell camera captured video of a man licking the doorbell for more than three hours.
The homeowners were out of town during the encounter, which took place around 5 a.m., but their children were inside. Sylvia Dungan, who was alerted to the activity at her front door on her phone, said, "I thought, boy there's a lot of traffic. ... Who the heck is that?"
Salinas police identified the man as Roberto Daniel Arroyo, 33.
Arroyo also relieved himself in the front yard and visited a neighbor's house.
"You kind of laugh about it afterwards because technically he didn't do anything," Dungan said, although police later charged him with petty theft and prowling. [KION, 1/8/2019]

• Debra Lynn Johnson, 69, of Searles, Minnesota, suffered from heart disease, diabetes, high blood pressure and mental illnesses, according to the Mankato Free Press, and was a patient at a transitional care center before her husband took her home to have a "death party," he later told authorities.
Brown County sheriff's officers responding to a 911 call from Duane Arden Johnson, 58, on Jan. 24 found the words "Death Parde G od Hell" spray-painted on the front door.
Duane came out of the house naked, yelled that his wife was dead and ran back inside, where officers found him in the bathtub picking "things" from his skin. Debra's body, still warm, was wrapped in a sheet.
Duane told police his wife had begged him to take her home to die, so they had staged the party, "rocking out" to Quiet Riot's "Metal Health" and taking methamphetamines.
After her death, Duane said he washed and wrapped her "like the Bible told me to do." Police found stolen guns and hundreds of rounds of ammunition in the home, and Duane was charged with felony counts of theft and receiving stolen property. [Mankato Free Press, 1/26/2019]