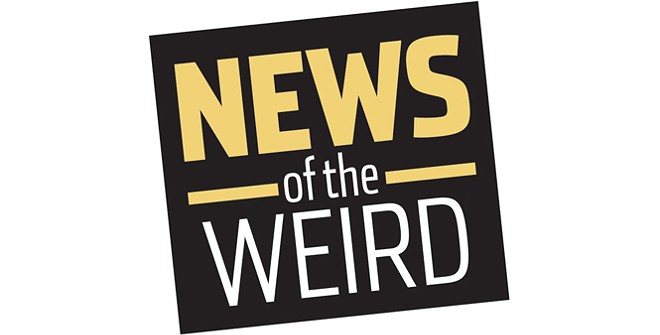 • Two workers with the Chicago Park District were spreading salt on an icy lakefront bike path on Dec. 11 when their pickup truck hit a slick spot and slipped into Lake Michigan, the Associated Press reported. It was halfway into the water before it got stuck on a breakwall. The workers were able to escape the truck and move to the shore uninjured. Park District spokesperson Michelle Lemons reminded Chicago residents that the path slopes toward the water and lake levels are high. "It might not look like it's dangerous, but it could still be a sheet of glass," she said. [Associated Press, 12/11/2019]

• It may not be the oldest fruitcake still (mostly) uneaten, but it could be the most beloved. The Detroit News reported that the Ford family of Tecumseh, Michigan, has been cherishing Fidelia Ford's fruitcake since 1878 -- over five generations. Julie Ruttinger, great-great-granddaughter to Fidelia, inherited the confection from her father, Morgan Ford, who kept it in an antique glass compote dish in his china cabinet until his death in 2013.
It doesn't much look, or smell, like a fruitcake anymore ("Smells like old people," Morgan once said), but Ruttinger is determined to keep Fidelia's legacy alive.
Each year, Fidelia made a cake that was meant to age until the next Christmas season. But in 1878, she died before her cake could be enjoyed.
When Morgan was buried, the family tucked a piece of the cake into his jacket pocket.
"He took care of it to the day he left the Earth," Ruttinger said. "We knew it meant a lot to him." [Detroit News, 12/13/2019]