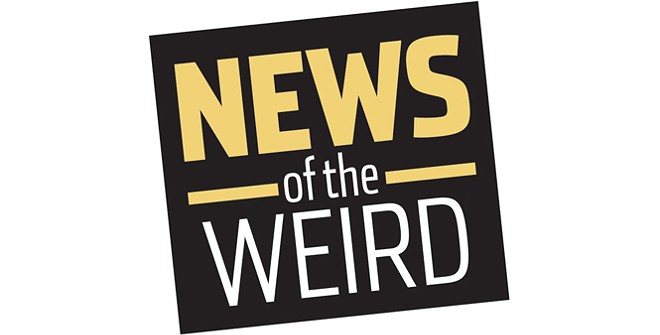 • Veronica Alvarez-Rodriguez stopped at a Valparaiso, Florida, Goodwill store on Dec. 1 to pick up a gift for a baby shower she and her husband were attending.
She was excited to find a Baby Einstein bouncer seat for just $9.99 -- unopened and appearing to be new, The Palm Beach Post reported.
Later, at the shower in Crestview, the father-to-be opened the box and found ... a Mossberg 715T semi-automatic rifle.
"You guys got me a gun!" he shouted excitedly. The gun had live ammo loaded in it, so the Crestview Police Department was summoned.
Initially, officers let the future dad keep the weapon, but later asked to hold it as they investigated the incident.
"Goodwill has the best treasures for $9.99," Alvarez-Rodriguez gushed. [The Palm Beach Post, 12/3/2019]

• On Nov. 29, Jackson County (Kansas) Sheriff Tim Morse reported that his office had arrested not one, but two, McCrackens for two separate vehicle thefts.
Around 1:30 a.m., a deputy stopped Eric Dean McCracken, 36, for a traffic infraction, then arrested him after learning that McCracken was driving with a suspended license.
Later that morning, the owner of the truck he was driving reported it stolen, the Topeka Capital-Journal reported.
Separately, just before 5 a.m. that day, the Shawnee County Sheriff's Office started tracking a different stolen truck using GPS.
When a Holton, Kansas, police officer tried to stop that truck, the driver, Keith Ray McCracken, 32, fled. He eventually stopped the vehicle and tried to escape on foot, but was caught at a convenience store.
Officers believe Keith was on his way to the Jackson County Jail to bail out his brother, Eric. Both were held at the jail on multiple charges. [Topeka Capital-Journal, 11/29/2019]