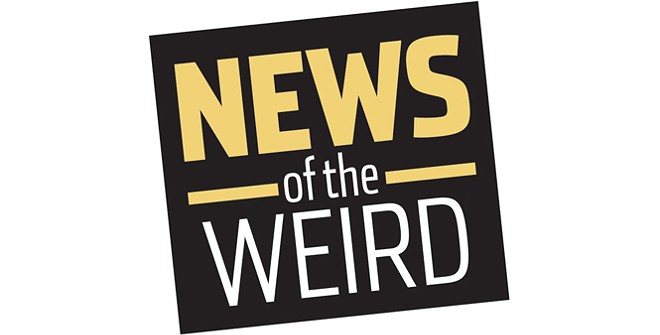 • Ronald Cyr, 65, of Van Buren, Maine, became the victim of his own trap on Nov. 28 when he was shot by a handgun that he had rigged to fire whenever someone opened the front door.
Cyr was able to call 911 and say that he had been shot, WAGM reported, but he later died.
When officers of the Van Buren Police Department arrived, they found that along with the home's front-door booby trap, other devices were set up, prompting them to call the Maine State Police bomb squad.
Homemade security devices that use weapons are illegal in the United States. [WAGM, 11/29/2019]

• In The Hague, Netherlands, management at supermarket chain Albert Heijn is walking back a request that employees send in a photo of themselves in their underwear, in order to work out sizes for new uniforms.
Workers were asked to use an "innovative mobile app" to submit the photos, AFP reported, but the company backed down after the complaints started rolling in.
"The manager told us that if we don't do it, we can't be in the store anymore because we don't have the right corporate clothing," said one 17-year-old employee who works at the Nijmegen branch.
But Albert Heijn said participating was voluntary and "although ... pictures were not visible to management, this should never have happened. We apologize to all involved." [AFP, 11/26/2019]