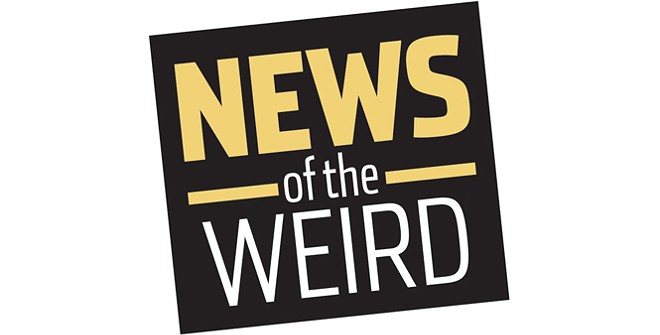 • In Bainbridge Township, Ohio, a 60-year-old man called police on Oct. 22 after firing two warning shots into his backyard, WOIO reported.
The unnamed man told officers he was trying to scare an animal away, but when asked if it might have been a bear, he said, "It ain't no ... bear because it was jiggling my doorknob."
The homeowner went on to tell police the animal had to be Bigfoot because it was 7 feet tall, and it comes to his home every night because neighbors feed it bananas. He also speculated that a woman who was missing from the area was taken by the "creature."
However, officers found no large animal tracks in his yard and suggested he call again if he witnesses anything suspicious. [WOIO, 11/12/2019]

• As college student Morgan Taylor got her nails done in a High Point, North Carolina, salon on Nov. 20, she was shocked when one of the nail technicians spread out a tarp on the shop floor and began butchering meat with what appeared to be a kitchen knife.
"I asked them what it was, because just seeing them unload flesh and bones was a little bit shocking," Taylor told WFMY. "They said it was deer meat, and they were splitting it up between the workers to take home. It had already been skinned; they were sectioning it."
Taylor reported the shop to the North Carolina Board of Cosmetic Art Examiners, which told WFMY its "inspectors have not received a complaint within memory of butchering in a cosmetic shop."
It declined to comment further on the open investigation. [WFMY, 11/22/2019]