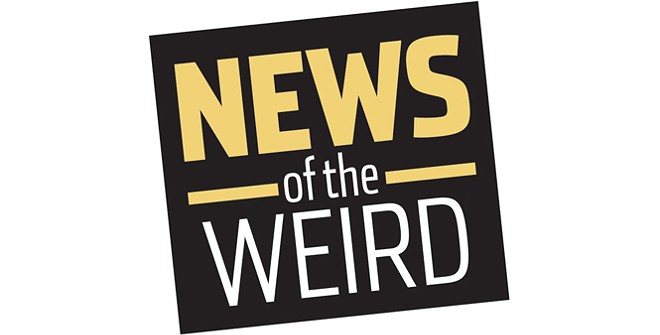 •
Staff at the Martin County (Florida) Correctional Institute spied some suspicious activity. Around 1:30 a.m., a drone was spotted hovering over an inmate housing center, while at the same time, a black pickup truck rolled slowly in front of the center.
The Tampa Bay Times reported officers stopped the truck and questioned Concetta Didiano, 22, and her mother, Cassanra Kerr, 40, who said they had driven the 200 miles from their home in Tampa so Didiano could learn how to drive the truck. But Kerr's husband is an inmate at the facility, and after a drone and a package of contraband -- tobacco and mobile phones -- turned up near the front gate of the prison, Kerr came clean: "I did it.
The remote and iPad are in the backseat." Both Didiano and Kerr have been charged with introducing contraband into a correctional center. [Tampa Bay Times, 12/19/2018]
• When Stephen Keys boarded a SkyWest flight in Reno, Nevada, he settled into his first-class seat and reached to buckle his seat belt. But when he raised the right armrest for better access, his right pinky finger became lodged in a small hole under the armrest, according to the lawsuit he filed against American Airlines and SkyWest on Dec. 5.
Keys tried repeatedly to remove his finger but could not, and it remained stuck for nearly an hour until the flight landed and airline mechanics disassembled the armrest, reported City News Service.
"The spring mechanism ... applied intense pressure to the plaintiff's finger, immediately inflicting injury, swelling and pain," the lawsuit read. "Dozens of passengers became aware of Mr. Keys' perilous condition, causing his dire situation to become a humiliating public spectacle."
What's more, the injury left Mr. Keys unable to drive and play with his children, causing severe emotional distress, according to the lawsuit.
SkyWest, citing ongoing litigation, would not comment on the suit. [City News Service via KNTV, 12/11/2018]