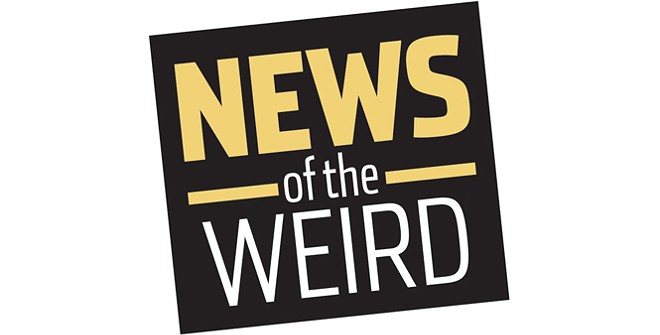 •
Richard Robert Langely, 46, of Kansas City, Missouri, was working part time for the Platte Woods Police Department in October when he decided to take part in the department's drug take-back program. Except, according to court documents, Langely wasn't disposing of drugs; he was helping himself to pills that had been collected in Lake Waukomis.
And to make matters worse, the Kansas City Star reported, his own body camera captured evidence enabling prosecutors to charge him with felony theft of a controlled substance. Langely is scheduled to appear in court on Dec. 10. [Kansas City Star, 11/26/2018]
Wesley Glenn Bost, 27, of Birmingham, Alabama, made quite the impression when he fell through the ceiling of a Waffle House in Tuscumbia, not least because he wasn't wearing pants.
Bost apparently went into the restaurant's bathroom and used his pants to tie the door shut, then, said Tuscumbia police Detective Sgt. Wes Holland, climbed into the ceiling with the intent of robbing the office.
WHNT News reported that video of the incident shows Bost shoving other restaurant patrons on his way to the door, which was being held shut by people outside, before hitting the door with his shoulder and falling to the floor.
Finally he managed to flee . . . without his trousers . . . which held his driver's license. [WHNT, 11/6/2018]