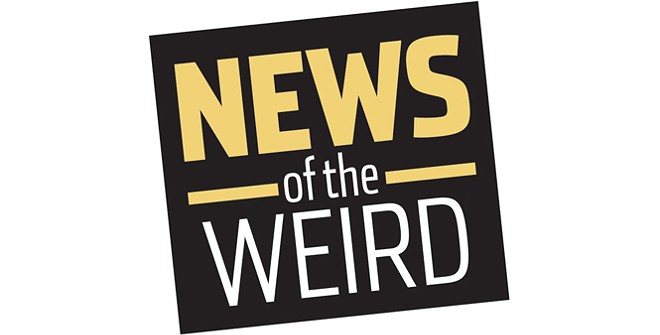 •
The Zolotoy Bridge in Vladivostok, Russia, is more than a mile long and opened in 2012, but three years later, inspectors banned pedestrians from crossing it because the walkways were too narrow to be safe. United Press International reports the ban didn't stop four pedestrians on Nov. 8, who attempted to cross the vehicle-only bridge wearing a yellow cardboard bus costume to disguise themselves. Police weren't buying it, though, and pulled them over. [UPI, 11/13/2018]
• Like many recently untethered people, Kimberly Santleben-Stiteler, 43, wanted to celebrate her divorce with a party, so on Nov. 10, she hosted about 40 people at her father's farm near Lacoste, Texas, about 25 miles west of San Antonio. The big bang of the party wasn't the music or the food, though, according to the San Antonio Star-Telegram. Santleben-Stiteler wanted to burn her wedding dress, which "represented a lie," she said, and not just burn it, blow it up.
Her dad and brother-in-law attached exploding targets to the dress, and to really take things up a notch, also rigged it with 20 pounds of Tannerite, the same explosive used in the targets.
"We have a friend who is a bomb tech, and he kept saying, 'That's really a lot,'" the un-bride's sister told the newspaper. Shooting from 200 yards away, Santleben-Stiteler hit her target on the first shot. "The explosion was huge," she said.
Residents of Medina County heard and felt the explosion as far away as 15 miles. "It was liberating pulling that trigger," Santleben-Stiteler said. "It was closure for all of us." [San Antonio Star-Telegram, 11/12/2018]