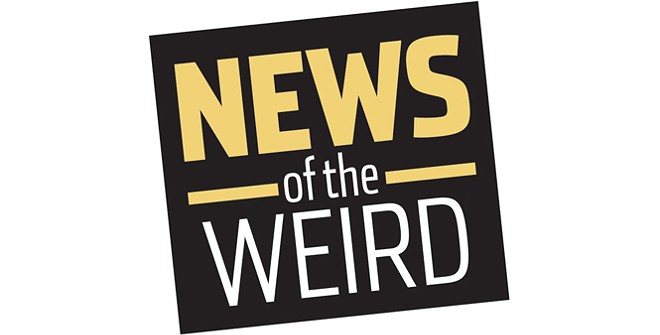 •
Police in Youngstown, Ohio, received an unusual call late one morning, according to WFMJ TV. A resident of the city's South Side called 911 to report that four men appeared to be stealing the sidewalk along Ridge Avenue.
Police arrived to find parts of the sidewalk were indeed missing, and following a tip from a neighbor, they soon caught up with four men driving a truck hauling six flagstone slabs.
Thomas Clark, Andre Eggleston, Levar Riley and D'Vaille Williams were charged with theft. [WFMJ, 11/15/2018]
• Hasbro has determined that the buying hotels and houses aspect of Monopoly doesn't much appeal to millennials, who "can't afford it anyway."
So just in time for Christmas, the company released a new version of its classic game, Monopoly for Millennials, in which players, whose game pieces include an emoji and a vintage camera, gather experiences rather than property.
On the box, Rich Uncle Pennybags holds a takeout coffee and wears ear buds and a "participation" medal that reads, "If you had fun, you won!"
USA Today reported the game's experiences include "Thrift Shop" and "Farmers Market," along with dining at a vegan bistro and attending a music festival. But make sure you Uber home: There is still a "Go to Jail" space on the board. [USA Today, 11/14/2018]