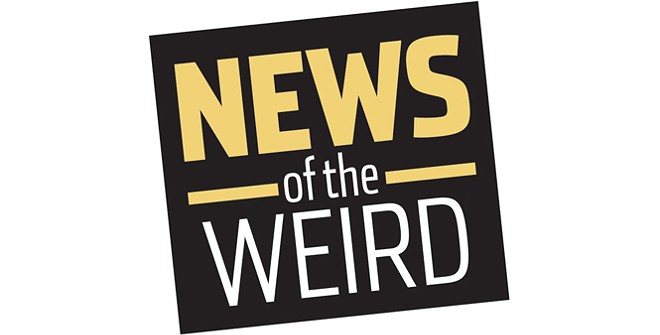 •
Christopher Greyshock, 57, of West Milford, New Jersey, used the old disappointed football fan excuse to explain how things went wrong after he was involved in a traffic accident in Wayne that injured two people: "I drank too much because the Jets suck."
According to News12, as first responders were attending to the injured, Greyshock staggered toward them smelling of alcohol. A field sobriety test confirmed Greyshock was inebriated, and he was arrested.
On the front seat of his car were a bottle of bourbon and marijuana. Buddy, there's always next year. [News12, 11/13/2018]
• David Rush of Boise, Idaho, has found a unique way to score his 15 minutes of fame.
At the public library in Oak Brook, Illinois, Rush set his mind to achieving a new Guinness record for eating sweet corn kernels within three minutes with a toothpick.
Rush, who holds 40 Guinness records, succeeded on his third try, downing 241 kernels.
"It's a ridiculous talent to have," Rush admitted to the Chicago Tribune. "I practiced skewering a lot to prepare along with the size of the plate, spreading out the corn and best toothpicks to use."
Rush told the Tribune he got involved in breaking records to promote science, technology, engineering and math education (STEM), saying a lot of kids don't feel confident about STEM subjects.
"If you believe you can get better at something and work hard at it, you can get better at anything," he explained. [Chicago Tribune, 11/14/2018]