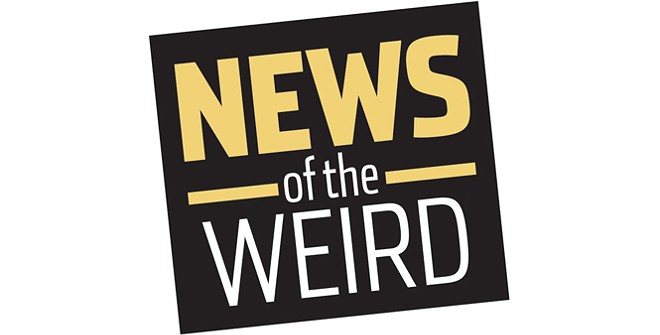 •
The historic Chattaway restaurant in St. Petersburg, Florida, is a welcoming place, but it was the scene of a lot of unexpected late-night activity in early November, according to the Tampa Bay Times.
Surveillance video of a Nov. 6 break-in captured an intruder who "spent over an hour just milling around going room to room and eating and drinking," said manager Amanda Kitto.
In the process, he stole chicken wings and beer, along with computer equipment and cash tips. In the midst of their investigation, police were surprised to find yet another nocturnal visitor on tape from the night before: A man riding a bicycle cruised up to the restaurant and slipped in a back gate.
After emptying a storage shed of all its contents, he went into the restaurant bathroom and emerged completely naked.
Next he can be seen at a restaurant picnic table, digging into the meal he brought with him: Maruchan Instant Lunch ramen noodles. But Kitto said he was so tidy staff wouldn't have even known he was there had police not been investigating the later incident.
"We still don't know where his pants are," said server Chad Pearson. Officers identified the man, who is homeless, but the restaurant declined to press charges because he caused no real harm. Police are still looking for the other man. [Tampa Bay Times, 11/12/2018]
• A lawsuit filed in federal court in Dallas seeks up to $1 million in damages and accuses American Airlines flight attendant Laura Powers, 56, of assault and battery on her co-worker Kathy Ida Wolfe during an in-flight brawl in June 2016.
In her suit, Wolfe claims Powers "maliciously dug her fingernails into my arm, and slammed the door of a beverage cart on my arm," and also "grabbed my scarf, choking me, and dragged me in the aisle and in front of the passengers."
The Dallas Morning News reported Wolfe also said she alerted the captain and other flight attendants about the behavior, but American took no action "to ensure my safety."
In response to the suit, originally filed in Tarrant County, the airline and Powers both said they are "not liable because (Wolfe) caused or contributed to cause the harm for which recovery of damages is sought." [Dallas Morning News, 11/10/2018]