Jewish World Review Dec. 2, 2004 / 8 Teves, 5764

Ed Bark
If stars stick with these resolutions, we'll all have a happy new year
http://www.jewishworldreview.com | New Year's resolutions are for everybody, including the many-splendored inhabitants of TV land.
Just like us, though, they seldom stay the course. Last year at this time, Uncle Barky suggested that Roseanne (who's now Roseanne Barr again) resolve to "remain a has-been. It's best for all concerned."
So what did she do? She tried to be a big somebody again by starring in the ABC summertime "reality" series "The Real Roseanne Show," which was supposed to be a run-up to her Domestic Goddess cooking series on the ABC Family cable channel.
But ABC canned "Real Roseanne" after just two weeks and the cooking show never happened at all. End result: Barr is back to being a has-been, but hardly had to make a fool of herself to re-achieve that status. If only these people would listen.
Now comes 2004 and another undaunted effort to help TV stars make the best of it. Here are Uncle's carefully considered New Year's resolutions for the small screen's brighter lights and dimmer bulbs:
Tom Selleck - Follow up surprise offbeat casting as Dwight D. Eisenhower in an upcoming A&E cable movie by playing David Gest opposite Fran Drescher's Liza Minnelli in the original Court TV film "Punch Drunk Lovers."
David Letterman - Take Madonna's advice and make "Dave's Mom" happy by marrying the mother of your baby boy, Harry.
Barbara Walters - Pretty much the same as last year. Sabotage rival Diane Sawyer's career by telling ABC News management that she's suddenly only interested in interviewing heads of state and Nobel Prize winners.
Diane Sawyer - Pretty much the same as last year. Sabotage rival Barbara Walters' career by telling ABC News management that she's suddenly only interested in interviewing heads of state and Nobel Prize winners.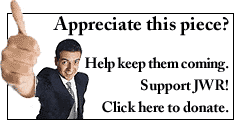 Simon Cowell - Shock "American Idol" co-judge Paula Abdul by telling her on camera, "You are the sunshine of my life. That's why I'll always be around."
Trista Rehn - Stun ABC by saying, "You know what, I'd like to stay out of the limelight for maybe a sec or two. So let's not do "Trista's Valentine's Day Spectacular" but stay on track with "Trista's Fabulously Expensive Hawaiian Easter," "Trista's Favorite Trista Moments," "Trista's Bachelorette Bloopers," "Trista! Trista! Trista!," "Trista's Top 10 Tips on How to Stay Happily Married to Trista" and "Bye, Honey, I'm Leaving to Do Another Special."
Chris Matthews - Astonish a "Hardball" guest by saying, "Ya know, that's a really great point. Please elaborate while I shut up and listen for a full 10 seconds."
Matt LeBlanc - Junk plans to do a spinoff "Joey" sitcom for NBC and instead become the new host of "Jeopardy for Dummies."
Snoop Dogg - Become permanent co-host of "Jimmy Kimmel Live!" and bring along the Fizzle Schizzle Fadizzle dancers.
Johnny Depp - Agree to do a "21 Jump Street" reunion movie for Fox, but only if the network promises to renew "Arrested Development" for five more seasons.
Kim Cattrall - Take a head-turning career turn from sex-crazed Samantha on "Sex and the City" to the title character in "The Golda Meir Story."
Clay Aiken - Accept the lead role in a Broadway musical version of "Revenge of the Nerds," co-starring Andy Dick and Chris Kattan.
James Brolin - Playing Ronald Reagan proved disastrous, so play it safe as colorless President Calvin Coolidge in the epic PBS miniseries "Yawn."
Colby Donaldson and Susan Hawk - Shake up CBS' upcoming all-star edition of "Survivor" by flaunting your sexual heat for each other in full view of Jerri Manthey.
Dan Rather - Take a shot at improving the lowly ratings for the "CBS Evening News" by interviewing the weekly all-star "Survivor" evictee on Friday's edition.
Jim Belushi - Keep your shirt on for an entire "very special" episode of "According to Jim.:
Al Franken and Bill O'Reilly--- Wrestle each other on a pay-per-view charity event, with Rush Limbaugh and James Carville alternating as referees.
Rosie O'Donnell and Sharon Osbourne - Go away.


Ed Bark is a columnist for The Dallas Morning News. Comment by clicking here.

© 2004, The Dallas Morning News. Distributed by Knight Ridder/Tribune Information Services