Jewish World Review Nov. 20, 2003 / 25 Mar-Cheshvan, 5764

Roger Simon
General confusion


http://www.NewsAndOpinion.com | You think you have enemies? Just be glad you're not a general.

When at a forum in September, retired Chairman of the Joint Chiefs Of Staff Gen. Hugh Shelton was asked if he would support retired Gen. Wesley Clark for president, Shelton quickly took a drink of water.

"That question makes me wish it were vodka," Shelton said. "I've known Wes for a long time. I will tell you the reason he came out of Europe early had to do with integrity and character issues, things that are very near and dear to my heart. I'm not going to say whether I'm a Republican or a Democrat. I'll just say Wes won't get my vote."

Which was bad enough, but on Nov. 6, retired Gen. General Norman Schwarzkopf appeared on CNBC's Capital Report, hosted by Gloria Borger and Alan Murray, who asked him what he thought of Clark.

"I mean, he was fired as a NATO commander," Schwarzkopf replied, "and when Hugh Shelton said he was fired because of matters of character and integrity, that is a very, very damning statement which says, `If that's the case, he's not the right man for president,' as far as I'm concerned."

Clark was understandably miffed — Shelton has refused to expand on his remarks or explain exactly what he meant — and went on the air the next day to say: "I haven't talked to General Schwarzkopf since 1991 when I interviewed him in his headquarters about what he liked and didn't like about the Army. He left the Army shortly after that, haven't seen him in 12 years. He didn't ask me anything about it. So he's certainly entitled to his opinion, but I think America should hold people to a high standard."

But it didn't stop there. Clark got wind of the fact that Democratic presidential rival John Edwards was using Shelton as an adviser. So the Clark campaign shot off this rocket to Edwards: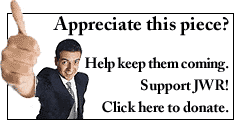 "I'm simply astounded that you have retained General Hugh Shelton as an adviser to your presidential campaign. This choice undermines the spirit of civility that you have urged your fellow candidates to uphold. Just this September you said, 'We need to be really careful that our anger is not directed at each other.' Maybe you should share that advice with your own campaign team.

"General Shelton has engaged in precisely the type of politics as (the) usual mud-slinging that you profess to abhor….You should insist that General Shelton either repudiate his attacks or come forward and provide proof for what he said."

Edwards decided to be cool and collected in the face of this hot and heavy attack and replied with this letter to Clark:

"Whatever your personal views on General Shelton, I'm sure you agree that he is a respected military leader who served our country with distinction.

"Although Gen. Shelton has not endorsed me or any other candidate, I value his advice as one of our nation's top military leaders. He is a fellow North Carolinian and has been a friend and advisor for many years. I will continue to seek his advice.

"When I talk to the former Chairman of the Joint Chiefs of Staff, it's about the safety and security of our men and women in uniform, not about politics."

We are not sure what any of this means, but until they sort it out, we are not inviting any of them to the same party.
Every weekday JewishWorldReview.com publishes what many in Washington and in the media consider "must reading." Sign up for the daily JWR update. It's free. Just click here.
Comment on JWR contributor Roger Simon's column by clicking here.

© 2002, Creators Syndicate